A Nigerian woman took to social media to celebrate her husband's girl friend on her birthday by wishing her a painful birthday. She also announced to the public and also reminded the girlfriend that she is an harlot who knows nothing more than to share another woman husband with her.
See what she wrote" CONSTANCE GODFREY DIDI @stancydiri on your birthday today, I wish you nothing but painsss in your life. May all the pains I'm going through never depart from you. May you not know peace #ole….see the thing that wants to share my hubby with me. HBD harlot.
A similar incident happened few months ago, when a married woman based in Rivers state called out her cheating husband's girlfriend on social media. The woman identified as Kimberly Chi Ibekwe shared a messy conversation that took place between she and the alleged sidechick. The woman identified her husband's girlfriend simply as Violet. revealed that the affair has destroyed her marriage.

Ibekwe also called on Nigerians on Facebook to advice Violet to stay away from the father of her children. She stated that she and her kids are not happy. According to the woman, she and her husband have been married for 11 years. The woman claimed that violet used charm on her husband.
Married women now use the Social media to their own benefit because it seems to be the best place to call these husband snatchers. The plan is to disgrace and drag them in public without making physical contact that might lead to beatings, instead, they allow bloggers to their work by dragging them in he mud and tagging them as a prostitute, harlot and this will definetly bring shame to their families and friends .
Some concerned Nigerians shared their opinions concerning this issue. Some told the wife that calling out a lady on social media and tagging her a prostitute does not mean she would leave your husband and even if she does, it does not mean your husband will not find another girlfriend. They believe charity begins at home, so she should fix her husband instead.
There have been so many cases of a wife hiring thugs to beat their husbands girlfriend or even beating them up themselves by setting them up.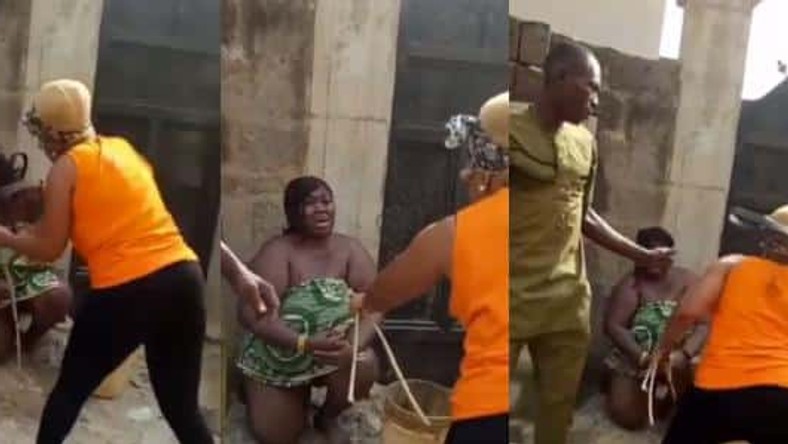 How do you think would have been the best way for the woman to address this issue?
Please share your thoughts in the comment section below
Source : Uncle Suru
Images: Google