A very disturbing video of a market woman using  dirty flood water to wash the vegetables she plans to sell to consumers hits the Internet and this ugly act has got lots of Nigerians talking . After a heavy down pour , the woman was seen inside a gutter flood using the opportunity to wash her after the vegetables she is going to put for sale in Iyanu odo estate, Isheri, Lagos.
See video below:
The person that caught the woman in the act said " What a life, this same vegetable is what people will but with their hard earned money , why is this woman doing this?  These are part of the people killing innocent souls. You are washing Vegetables inside dirty mud flood. who knows if excretion might have mixed with the dirty water ".
So many Nigerians blamed the woman recording the video and asked her why she couldnt go and stop her also to make her realize what she is doing is very wrong .
Quite a number of concerned Nigerians reacted in angry ways to the post above. See some reactions below:
It can also be recalled that few hours ago, Nigerians  stumbled across a picture on the Internet where a woman was seen producing palm oil in a very dirty and disgusting environment. A man identified as Ikechukwu Ani on Facebook shared a photo which has been considered by many to be irritable. In the picture he posted, a lady was spotted processing palm oil locally.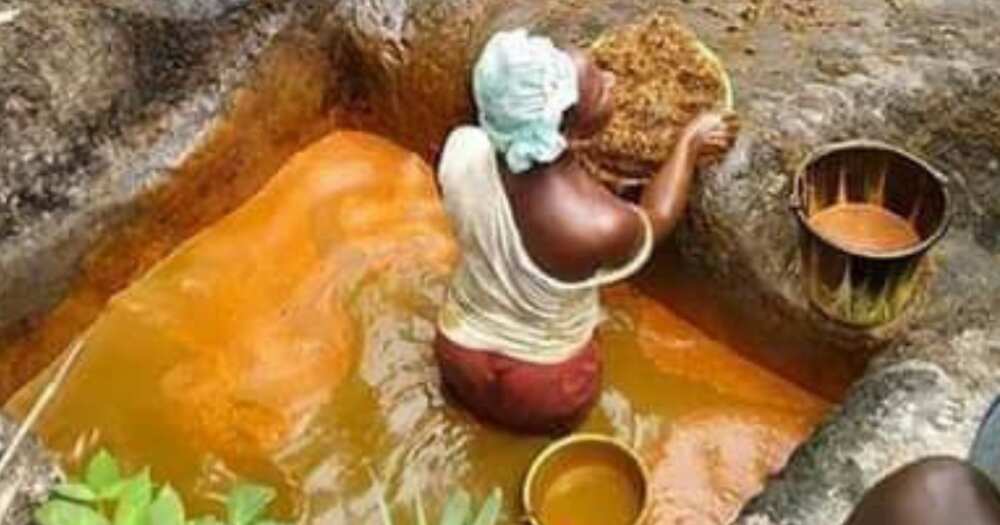 The unidentified lady was knee-deep in the palm oil which was enclosed within a hole dug from earth. Her clothes were filthy and wet from the stain smeared on her by the oil, and in her hands, was some crude waste that was unpleasant to the eyes.
Even the environment in which the woman and others were doing the processing did not look appealing. It was dirty and surrounded by green leaves.
Many Nigerians did not quite like what they saw in the photo and they considered the woman's method of processing palm oil to be unhealthy.
What do you think should be done to these kind of people in the society especially those in-charge of producing and manufacturing what everyone will put in the stomach?
Please share your thoughts in the comment section below
Source : Instablog
Images : Google