Skin Lighting, Skin toning, brightening, whitening and what have you are all synonyms used in place of skin bleaching, like an epidemic, it has eating very deeply into the Nigerian society and have thus found a permanent home. It's a phenomenon that has been in the Nigerian society for decades and has turned a huge business for cosmetic industry. The skin lighting market is so huge it adequately caters to Nigerians in general irrespective of their different social class. And interestingly some prominent celebrities falls into the demographical range of persons who patronises the industry and are also highly in demand of it. We bring you list a list of Nigerian celebrities who may be bleaching.
Bobrisky
Okuneye Idris Olarenwaju, popularly known as Bobrisky, is a Nigerian cross dresser and entrepreneur. He became famous on Snapchat thanks to his extravagant looks and outlandish stories.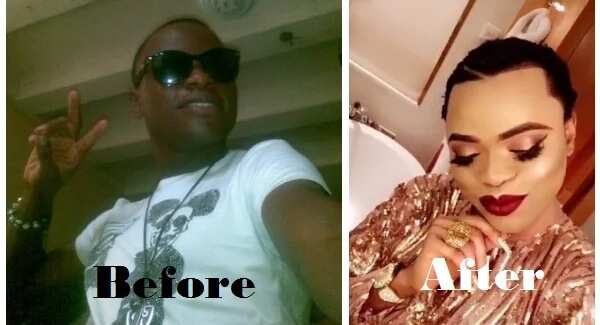 While Bobrisky was transforming, the cross dresser who once sold cosmetics products to promote his boutique  business started to bleach his skin as he became widely known with his lifestyle.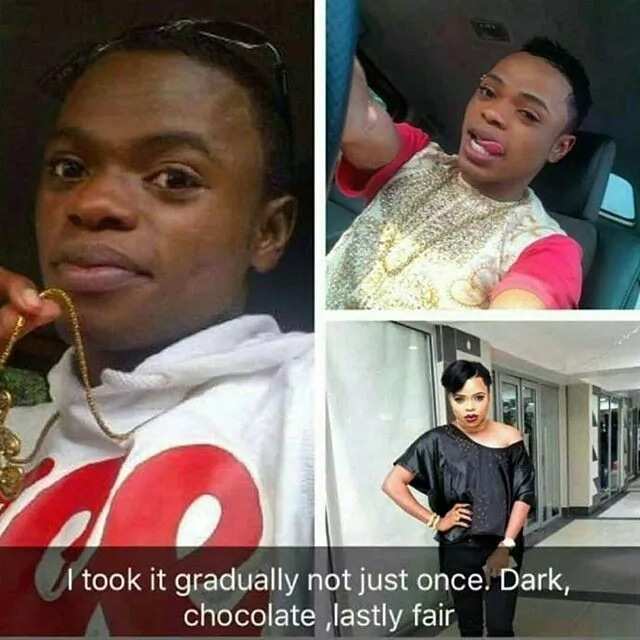 Most people know him because of the 'before and after' pictures that showed the results of skin lightening creams. He is also known for over sharing the intimate details of his personal life.
Iyabo Ojo
The sensational Nollywood actress Iyabo Ojo is one of the best actress and producer in the Nigerian Film industry. She's very talented and passionate. Many who sees the beautiful Nigerian actress and you wonder how come she's  beautiful speedily.   The answer is not far fetched. She transformed from a black lady to a white lady over the years.

She look so light now that most people will never even imagine that she was once a black lady.  The mother of two presumably  embarked on the journey of changing her skin colour in 2017.
Although,  It was a gradual process which she has soon perfected. She went a notch higher than others as she has a beauty shop that also help people touch up their skin.
Toke Makinwa
Toke Makinwa, A media personality, famous blogger, she is well known for her charm and magnetic countenance in the spotlight.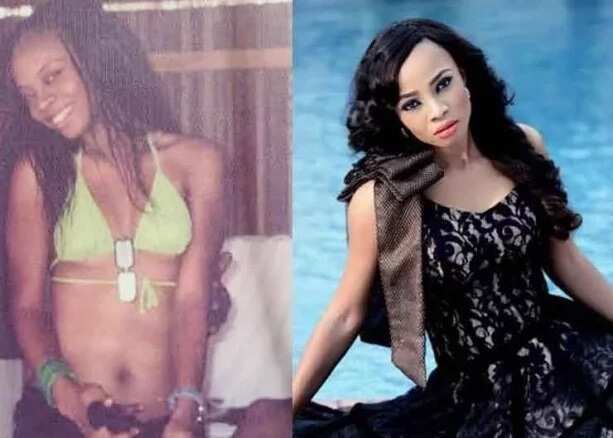 Toke Makinwa's fans knew about her bleaching after the release of her book "On Becoming". The most shocking news was the reason for this step. Toke Makinwa bleaching was made to please and impress her ex-hubby, Maje Ayida, for that period they were still together.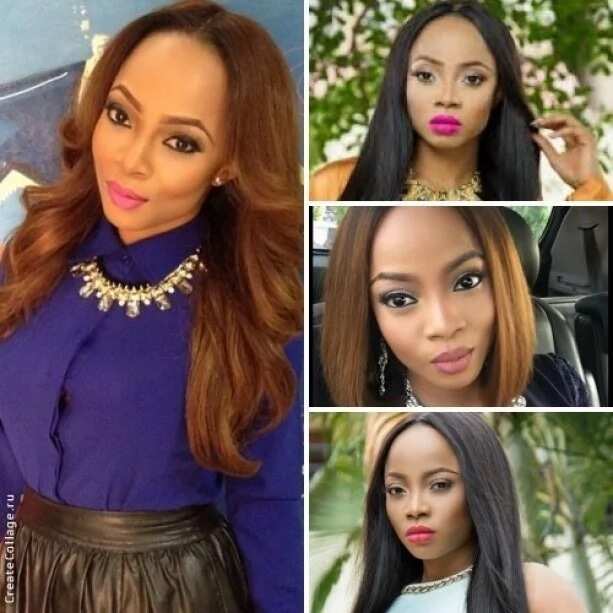 Even dearest fans did not know about the bleaching of their favourite and start to search in the Internet for Toke Makinwa's old pictures and for pictures on which Toke Makinwa is without makeup.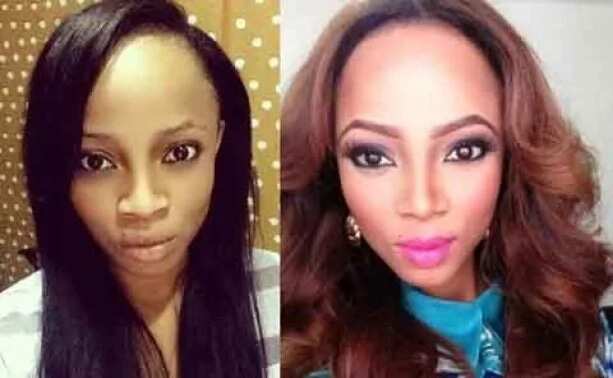 Sean Tizzle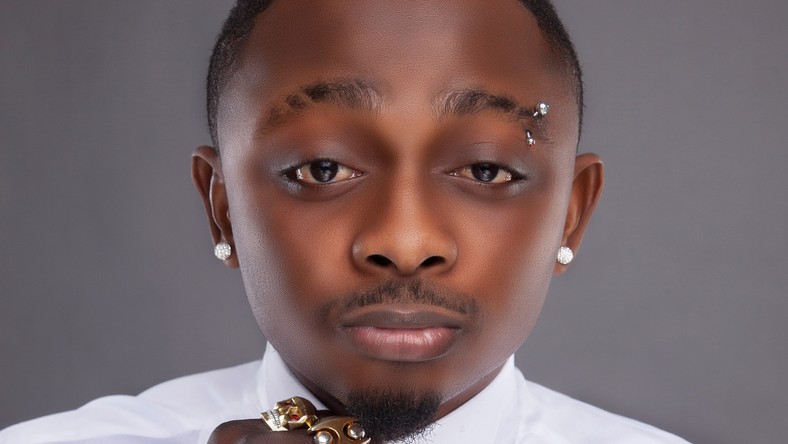 The 'So le' crooner, Sean Tizzle is one male singer who is now romancing acting. Some of his fans are complaining about his changing skin color. The discolouration noticeable in his hands sold him off.
Although, he refuted the accusatory claims of bleaching his skin as he  addressed  bleaching claims.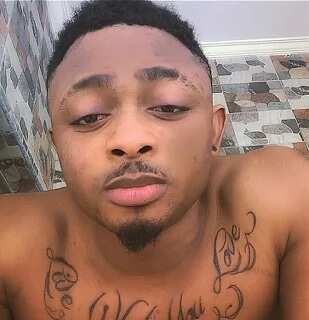 On the criticisms he received following his November 2015 tweet, where he said that Omawumi's cover to Adele's "Hello" was better, Sean Tizzle refuses to apologise for it. The singer who left micro-blogging site, Twitter after he was trolled for the opinion.
Cynthia Morgan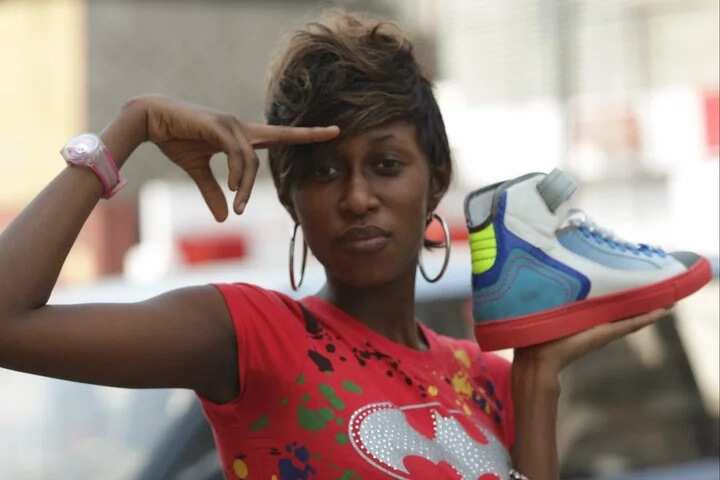 The  Benin City born, Northside Music Songstress, Cynthia Morgan is  another celebrity that has transformed as per her skin colour. Pictures of dark skinned Cynthia Morgan  surfaced the internet years ago and you can easily draw your conclusions.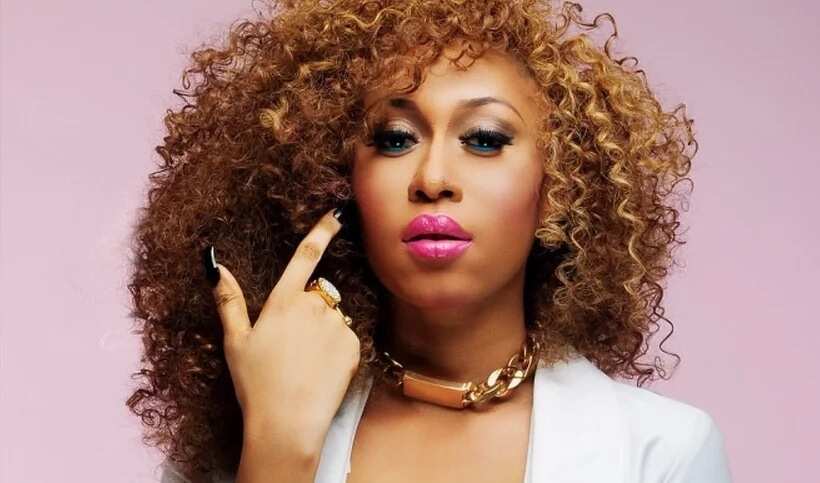 Although, She denied bleaching claims and  in 2013, Jhybo  came to Lime Light With a Song that took over the street, it is titled 'Run Their Mouth' and featuring Cynthia Morgan.
Halima Abubakar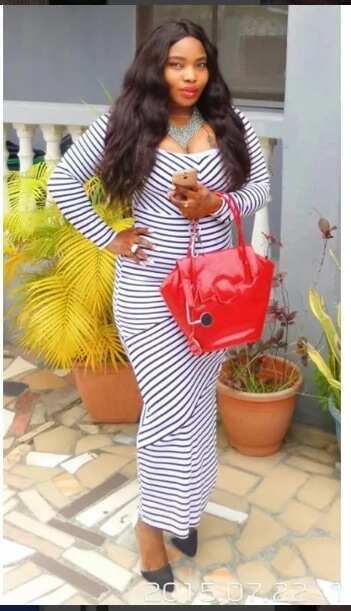 Popular Nollywood actress Halima Abubakar  openly admitted that she bleached her dark skin and even shared the picture on her instagram page.  The actress made this known in a comment under a post she shared on Instagram.  Sharing a video of herself to taking a trip down the memory lane of her career as an actress.
Known not to run away from controversy, the actress unashamedly revealed she bleached her dark skin as  shared a picture of her on instagram page.
Rukky Sanda
She is another actress that got alot of tongues wagging about her complexion. The actress attempting to debunked rumor, granted an interview were she admittedly revealed she was bleaching. She said;
 "I'm light o, and I'm going to do everything I have to maintain my complexion. If they like they should call it bleaching or washing, whatever they want to call it. Me and my cream, we are best buddies. Whatever they want to say, they should continue. Me I am making money. When nobody is talking about you, then you are not doing something right."
What are your thoughts on this? Kindly leave  a comment and don't forget to share