We have heard countless times of cases of abusive relationships where a woman is beaten and battered by her partner/husband. Women in such abusive relationships go through hell, pains, and injuries.
While some gather up the courage to leave such relationships and free themselves of the torture, others choose to stay, either enduring or enjoying it.
Yes, you would wonder why any woman would enjoy being beaten and battered by a man, but the truth is, there are women who actually enjoy it and would go any length just to be in an abusive relationship. Strange right? Here's an example below of a woman who narrated how she enjoyed being beaten and injured by her husband, saying it was normal as it helped her love him more. She also said she loved to see him angry because it gave her a certain sense of happiness.
She shared her story saying:
"Some of you might think I am mental, but I am very normal. Bom I love my husband beating me, I enjoy seeing him angry. Don't call me crazy it is just my person. He used to beat the living daylight out of me and sometimes I bleed but I still survive it. We have lived like that for 2 years and he has killed 3 of my unborn kids out of that but I don't mind, God will give us more. But now he has repented and found Christ according to him and he has become too calm. He does not shout or raise his hand on me again and the marriage is now full. So I met this tanker driver that use to beat me and give me money, I love the guy so much because he is too strong. Bom I am pregnant and I don't know if I should keep it because my husband has not touched me since he found Jesus."
Despite the prominence of the fight against domestic violence by groups, agencies, NGOs and governments to liberate women and other victims suffering from this, some of the victims actually enjoy it and don't want to be fought for, rather, they choose to remain in such relationships/marriages.
Using the story above as a case study, a number of women just like the woman who narrated her story above, enjoy being abused and being inflicted with pains and bruises. Some of them can't stay in relationships where the man isn't harsh, mean or violent towards them. In rare cases, the victims admit that the beatings and violent acts against them help them love and respect their men more.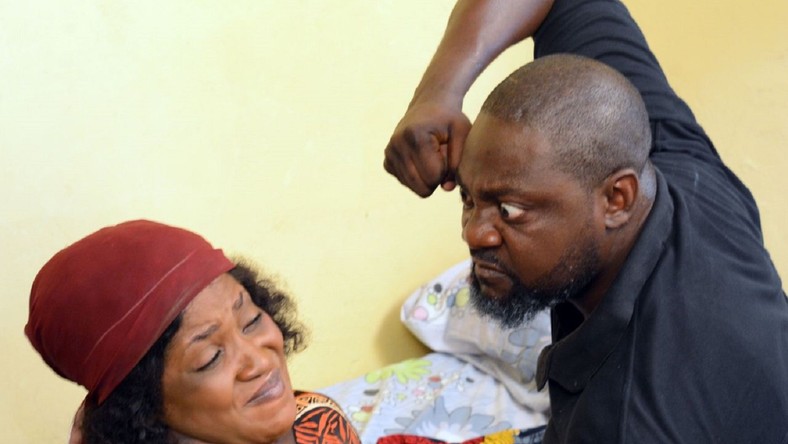 Most females caught up in bad romance often don't know how to get out until it's too late. It's not like this is a new phenomenon. Women have been sticking with men who abuse them for centuries. Even today, with all the available support that we couldn't get access to in the past. That just proves how mental abusive relationships are, and usually, it's our own traumatic histories that cause us to keep seeking the wrong things as adults.
There are several reasons why such women end up like that, loving and enjoying or enduring abusive relationships at the detriment of their lives and health. These reasons range from psychological to mentally related issues. This piece highlights 5 out of the several reasons some women endure or enjoy such relationships.
1. Having A History Of Abuse
Abuse is like a contagious domino effect. Once it's inflicted upon you, there's a huge chance that you'll either become dependant on such abuse or start abusing others. What happens to us during childhood is carried throughout the rest of life. An example is the story of a woman and mother who was always in the middle of her neglectful parents' violent fights as a child, and now, as a middle-aged adult, she's still in an abusive relationship with her man of 10-plus years. Despite her outward and inner strength, she admitted that she always felt an emptiness without the sounds of shouting and anger around her. You could ignorantly dub such women as "weak," but we're all allowed our weaknesses. For some, it's alcohol and drugs, and for others, sex or money. Then, sadly, there are those who are forced to associate pain with fulfillment.
There are also cases of people who were abused as children, especially those who lived with foster parents or guardians. Some children are actually brutalized by their guardians or parents, and they undergo such brutality every other day. Such children either grow up to be resentful or enjoy being abused by their partners when they are in a relationship.
2. Seeing Abuse As A Way To Love And Respect Their Partners
Some women have revealed that being abused and brutalized by their partners helps them love and respect their partners the more, and they also feel their partners abusing and violating them is a way of their partners showing them love.
3. Feeling A False Sense Of Security
An abusive man making a woman feel secure is a paradox, but being in love can make such contradictory behavior seem reasonable. The offending men in question are experts at what they do, which is luring in women with obvious self-esteem issues and buttering them up to the point of no return. They'll say they love and want to protect them, then shower them with all sorts of gifts and compliments, until one day when the man goes totally exorcist and shows his demonic side. It almost becomes like a pimp/ho relationship, where you're seduced into a false sense of comfort only to have the rug pulled from under you once you get comfortable. At that point, she has probably divulged all of her darkest secrets to the man, which he'll surely use as ammo to dissuade her from bouncing.
For women who don't believe in themselves, rather than exit, they choose to stay back and suck in all the bullshit. Remember, these are girls that have probably been neglected or abandoned in the past, so being alone is, like, their biggest fear in life. To escape the clutches of someone who makes you feel worthless without them, it's crucial to surround yourself with other positive people who can instill some security in your world.
4. Getting Off On The Pain
There's a huge difference between a lady who likes it rough in the sack and one who actually enjoys physical and sexual abuse. Some women choose to transcend the rough play boundary and head towards full-on violence. Some women tend to enjoy abuses and violence during sexual activities with their partners. Though some women like to be spanked or their hair yanked every now and then, but there have been extreme cases involving bruising, lashing, cutting, burning, vomiting, and pretty much any other atrocity you can imagine. If it's consensual and you're into that, then go for it, but don't think getting off on abusive practices doesn't have its pitfalls. There are women who even stay with men who berate them just because of good sex.
5. Fear Of Losing Too Much
While many abused women are stuck in awful situations because of controlling men and their own lack of self-confidence, some are forced to stay because other things are invested in the relationship, like marriage, kids, or property. Perhaps it's the man's income that allows for a certain lifestyle, pressuring the woman to stay for a fear that she couldn't make enough on her own. That's when everything gets really nasty, and not every woman can afford the court costs of a custody battle. I've seen countless females get put in positions where they have to grin and bear the abuse for the sake of their children when they would have otherwise run at the first sign. Whatever course the woman takes at that point is sure to be painfully long, exhausting, and expensive, presenting the impossible decision of having to either stay and pray or leave and risk the terrifyingly unknown.
These are reasons a lot of women stay in abusive relationships and even when people try to help them get out, they are never interested in getting out. A good number of such women end up losing their lives along the line and these men move on to the next available woman.
Share your comments on this in the comment box below.