If football was a lottery, footballers would surely be the high-earning winners. Hefty pay checks, swanky mansions, mean machines and, not to mention, attractive women, the men in the game thoroughly enjoy them all.
Amidst all the perks and incentives, it's the natural ability of the footballers to dominate female attention that clearly stands out. From sizzling models to high-profile actresses, the footballers truly know how to make themselves look good.
It's almost as if there's a specific clause in their contract that demands them to have a hot girlfriend or a stunningly beautiful wife to play for a particular team.
Some women aspire to date footballers to raise their profile, while others just simply love a man dominating the sport. After all, who doesn't like to sit in the VIP box or hang-out at the coolest parties alongside big-shot socialites? Ultimately, women love footballers and the footballers, too, appreciate a hottie by their side.
Whether it's fame, fortune or just the luxury of not having to slog for a living, some women have ended up dating multiple footballers (definitely not at the same time). This in turn has often got footballers dating another player's ex.
Yes, it has happened before on numerous occasions and it sure will continue as long as football is at the pinnacle of global sports. So, here's a list of top 8 footballers who dated the same women in the past
8. Cristiano Ronaldo and Marcus Bent – Gemma Atkinson 

An English actress, TV personality and a lingerie model, Gemma Atkinson dated the five-time Ballon d'Or winner Cristiano Ronaldo in the early stages of his career at Manchester United. However, if you know Ronaldo's history with women then you'd have probably guessed that their relationship didn't last too long.

Earlier, Atkinson dated the former Everton striker, Marcus Bent. Their relationship didn't start too well, but after dating Danielle Lloyd, Bent came back to Atkinson. The two eventually got engaged, only to call it off in a few months.
7. Kevin-Prince Boateng/Christian Vieri – Melissa Satta 
Satta dated Italian striker ChristianVieri between 2006 and 2011 but their relationship broke down.
The television presenter then moved onto premier league failure Kevin-PrinceBoatengwho was playing at AC Milan in 2011. The couple has a son and is still together.
6. Sergio Ramos, Alexis Ruano and Sergio Sanchez – Elisabeth Reyes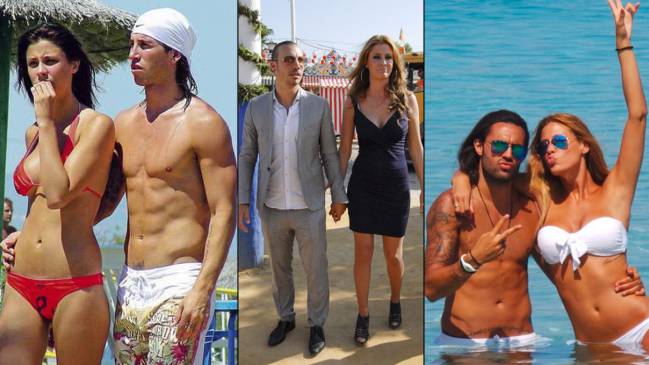 Reyes is a model and occasional moderator who just happens to be a former Miss Spain. Thus it was probably no surprise that she went on to bag Real Madrid captain. Reyes and Ramos dated for about a year then broke up.
The former Miss Spain then went on to date Getafe defender Alexis Ruano but was also not meant to be.
She ended up with another footballer called Sergio Sanchez who plays for Panathinaikos. They got married three years ago and welcomed their first child in this year.
5. Mesut Ozil and Matteo Ferrari – Aida Yespica

A Venezuelan TV personality, model, actress and a former beauty pageant contestant, Aida Yespica dated Italian footballer Matteo Ferrari for two years and also have a son, Aron Ferrari, together. After her break-up, Yespica got involved with German footballer Mesut Ozil.

It is believed that she was the alleged reason behind Real Madrid's decision to sell Ozil to Arsenal. The Los Blancos were miffed by their playmaker's frequent visits from Spain to Milan in order to see her. The visits, apparently, took a toll on his form and the Spanish giants were clearly not impressed.
4. Mario Balotelli/Cheikhou Kouyate – Fanny Neguesha 

They got engaged right before 2014 FIFA World Cup. He couldn't stop gushing about how happy he was that she's said yes. However, they broke up just a few months later.
Right after, rumours began swirling about a relationship with West Ham player Cheikhou Kouyate after she shared photos of them on Instagram, and was spotted shopping with him in Milan.
3. Cristiano Ronaldo/Mario Belotelli – Raffaella Fico 

At the age of 21, Italian singer and model Raffaella Fico was on the verge of publicly auctioning off her virginity for a whopping 1 million Euros but withdrew the offer, perhaps considering that the football market was more lucrative.
She eventually lost her virginity to Cristiano Ronaldo (as she claims) during their relationship that lasted for about 11 months. And, just like Ronaldo's former ex-girlfriends, she, too, claims that the Real Madrid superstar is no good in bed.
In 2011, Fico started dating controversial Italian striker, Mario Balotelli.
The pair dated for a few months until Balotelli's infidelity ruined their relationship. Shortly after their break-up, Fico announced her pregnancy provoking the ire of Balotelli who refused to acknowledge that the child was his. It took a DNA test to make Balotelli admit that he was the father.
2. Cristiano Ronaldo and Sergio Ramos – Nereida Gallardo
Real Madrid greats Sergio Ramos and Cristiano Ronaldo almost found themselves in an awkward position following their relationship with Nereida Gallardo. A Spanish model, who originally hails from Majorca, Gallardo met Ramos at a Madrid nightclub back in 2007 and the two dated a brief period.
In 2008, Gallardo – once again – found a gem in a Madrid club when she met Ronaldo. She got his initials tattooed on her wrist and also spent weekends at Ronaldo's Cheshire home.
But after nine months together, the Real Madrid star dumped her by a text message.
Gallardo, for obvious reasons, didn't handle the break-up well as she went on to humiliate the star by claiming that he was a flop in bed while speaking on Spanish TV.
If that wasn't enough, Gallardo also revealed Ronaldo's favourite underwear – a pair of tight red pants with an elephant's trunk on the front – and, in her own words, "they don't quite fit him." Now that's gotta sting more than a bit.
1. Samir Nasri/Freddie Ljunbgerg/Keiran Richardson/Darren Bent/Jermain Pennant – Anara Atanes 
Atanes dated former Arsenal player Freddie Ljungberg for a while and their relationship was plagued with allegations of her cheating on him with Keiran Richardson.

This came after she and Richardson were spotted together at a dinner for his then-club Manchester United.
She is also rumoured to have also dated Darren Bent and Jermaine Pennant.

But currently dating former Manchester City player Samir Nasri since 2015.