Decluttering the  wardrobe can be one of the most fearful tasks for a woman. It is extremely overwhelming and even takes weeks. However, most of it is because of the fear in our minds. It is not as daunting a task if you know exactly what to do and work according to the plan. So, here are a few simple tips :
1. Get some free time:
Do not try to declutter your wardrobe in bits and pieces for the span of an entire month. This process is barely successful. Reserve a few hours of your weekend solely for this job. Definitely, the time will vary depending on the size of your wardrobe.
Image credit: abeautifulmess.com
2. Bring it all out:
The best way to arrange things is to start from a complete mess. The reason is quite simple. When you're in a complete mess, there is no room for anything worse, so you can only go uphill from there. So, take out everything there is in your wardrobe and throw it in a pile on your bed or on the floor.
3. Start sorting:
Now start by sorting all the items into different categories – party wears, casual wears, hats, night wears, shoes, and other things into separate piles. The most important part here is to get the pile of unused clothes or items. Do not try to hold on to things you really never wear. Usually there should be two piles in this category. One, those that have become too old, and two, those that are brand new but you do not wear them because you don't like how they make you look or any other reason.
Image credit: clutterfreenow.com
4. Put back the piles:
You already have your clothes, shoes and other items piled according to your needs. All you need to do now is clean the wardrobe and put the piles back in. Once you're done storing all that which goes into the wardrobe, it is time to deal with the two piles with non-used items. You may consider donating them to the needy or you may have your own plans. Accordingly, store them in a few different boxes. Do not let them re-enter your wardrobe, even if you have the space.
5. Label everything:
You're done decluttering your wardrobe. Isn't that scary anymore, is it? To take things one step ahead, you may also place labels in front of every pile of clothes so that you remember as to why you put a certain dress in a certain category. And the next time you take it out, you'll know exactly where it goes back in. This way, your wardrobe will remain neat and tidy for a longer period of time.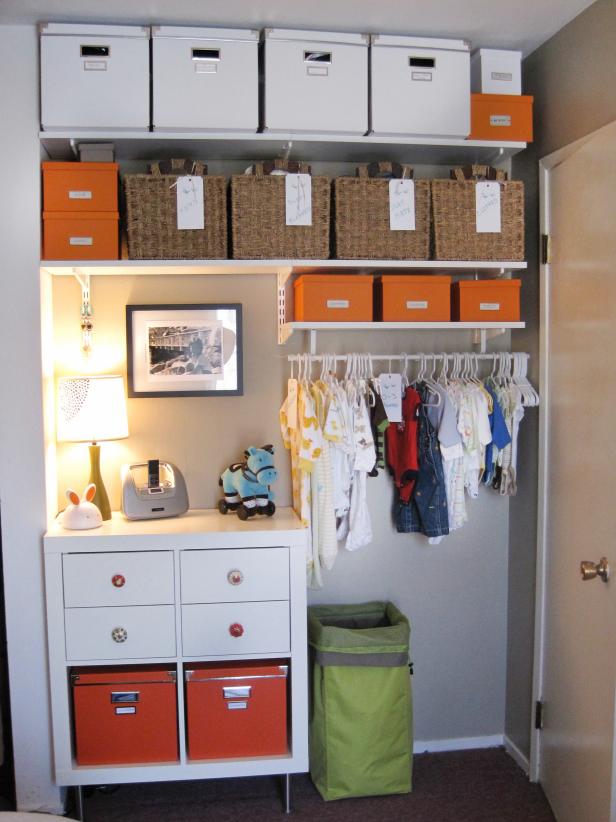 Image credit: hgtv.com
What do you think about this? Kindly drop a comment below
Source: magforwomen.com