A video of the AMG Business rapper, Samuel Frimpong aka Medikal and his new girlfriend, Fella Makafui kissing and smooching in bed has popped up on social media and it's fast going viral.
In the video, Medikal is lying with Fella Makafui under the sheets and it's all romance. They could be seen giggling, kissing at all sort of places, smooching and doing all kinds of kinky stuff. Well, as expected, social media users have reacted widely to the video with many condemning and praising the two for their show of affection.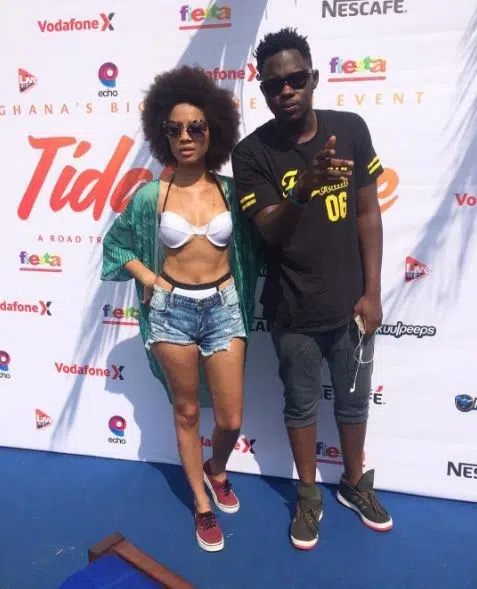 A section of social media users has accused Medikal and Fella of doing all these just to tease and mock Medikal's ex-girlfriend, Deborah Vanessa aka Sister Derby. Medikal was snatched from Sister Derby by Fella Makafui weeks ago and it has become a heated topic for discussion on social media since then.
Sister Derby has released a diss song for the two describing their affair as cockroaches love. Medikal has already countered with several diss freestyle and lately a full diss song. Archipalago called on Medikal because all his songs as a reply to Sister Derby's 'Kakalika Love' diss song is just making him look like child. Archipelago sent an advised to the AMG rapper Medikal to stop that sh**t and move on.just yesterday, Medikal released another song titled 'Open Letter' in which he talked on how Sister Deborah used to insult Lydia Forson.
He also revealed a lot of unnecessary secrets. It's at the back of this that Palago is advising him via his Snapchat account. After being evasive, dropping a hint with a diss song, rapper Medikal has finally confirmed his love journey with singer Sister Debbie has come to an end after a two-year ride.
According to him, they have gone their separate ways for a while now. And yes, he has started a new love ride with actress Fella Makafui of YOLO fame.
And Medikal says he will clear the air on his breakup with the self -acclaimed African Mermaid with a new song titled Ayekoo, which he plans to release on Saturday, November 10.
In an exclusive chat with Graphic Showbiz, Medikal (real name Samuel Adu Frimpong) said, "Everything you hear about me, Sister Debbie, Fella Makafui is true. Sister Debbie and I are no more together, although I do not want to go into details.
Please share your comments below.