The African Stewed Spinach also popularly known as Efo riro is a one-pot stew with layers of flavour. It requires quite a number of ingredients but little work from the cook putting it all together (as long as you already have all your ingredients prepped).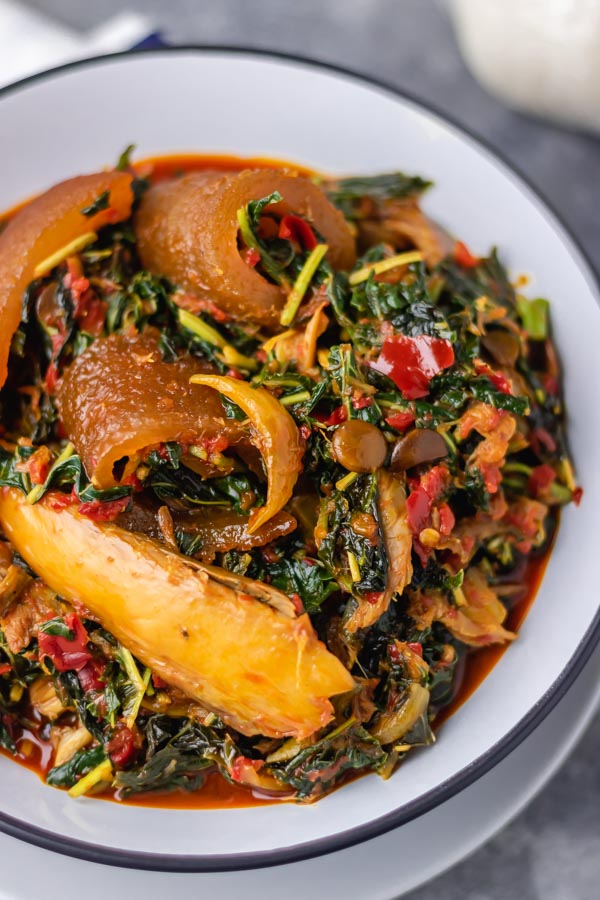 Also, Crayfish is almost a must for the traditional Yoruba style Efo riro, however, if you don't have access to it, I will suggest you use smoked Fish or Smoked Turkey to give your stew the much-desired umami flavour without adding seasoning cubes.
TO MAKE A GOOD EFO RIRO (STEWED SPINACH):
Get all your ingredients together:  The boiled Meat, Fish, Turkey, Chicken or any other choice of protein.
Heat up the Oil: I like to heat up my Oil a bit. I'm not a fan of bleaching palm Oil so I simply add the Onion once the Oil is hot and while the Onion is cooking in the Oil, the palm oil too is cooking. That does the trick for me.
Fry the blended peppers: I wish the computer has a function to show emotions – emoticons are not strong enough to show the type of emphasis I'm talking about :).  My emphasis is on fryyy… You need to fry till the water in the sauce evaporates and the sauce is reduced. Please remember to pay attention to the sauce, you don't want it to get burnt, so be sure to stir constantly till you achieve that thick consistency.
Season and add the Meat and Spinach: The sauce should be seasoned at this point with all those nice spices and condiments. Add the Meat, Stockfish, and dried Prawns or your choice of protein. Let it cook so that it can absorb all the yumminess of the sauce. Then, stir in the spinach.
Finally: Adjust the seasoning if there's a need to. Remove from heat and serve.
WATCH VIDEO ON HOW TO MAKE THE AFRICAN STEWED SPINACH:
VERY IMPORTANT
Stewed Spinach is often eaten with Fufu – a general term used to describe swallow foods like Eba, Amala, Plantain Fufu, Pounded Yam and more. On the lighter side, you can serve this over Rice or boiled Puna Yam.
Credit
Cheflolaskitchen.com