Fashion is a distinctive and often constant trend but how you style your clothes define who you are. Fashion encompasses all which includes style of cloth, shoes, bags, accessories, hair style etc.
When it comes to fashion for ladies, its not always about what you wear alone, its mostly about how you wear it. You can wear an exact type of outfit with your friend but still look finer and better than her.
Another outfit that every lady should have in their collection is a "JUMPSUIT". Every lady should own a jumpsuit because it can be styled easily and can be worn any day and at anytime.
Jumpsuits are suitable to wear to the office, beach, to see a movie, to an evening event etc … What matters is how you rock it. Wearing a blazer on your jumpsuit makes it perfect to wear to the office.
Long sleeve jumpsuits are considered all-season jumpsuits, as they cover your arms, but can also be worn with a long sleeve t-shirt, if it's a little cold, or if you are concerned about displaying too much arm!
The easiest way to layer a jumpsuit is with a jacket on top. Add a blazer or jacket if it's cold, or if you want a more professional look. The other option is to layer a shirt or top underneath your jumpsuit.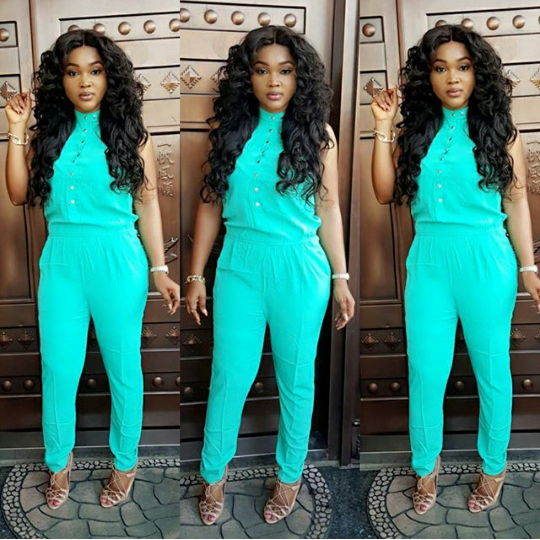 A belt can glam up this a jumpsuit and you can alternatively look for a tie-waist jumpsuit, which will allow you to adjust the fit, which wraps around your whole waist.
Jumpsuits look fabulous  with flats, wedges, but equally a pair of converse can give it a great casual look.
So for women who are tired of the usual jeans and t-shirt or dresses, a jumpsuit is a great alternative. It is a multipurpose and versatile fashion piece, ideal for almost any occasion.
Just like the Nigerian mum, entrepreneur, fashionable and actress Mercy Aigbe usually rock her jumpsuits  especially with an ankara fabric, you can as well decide to be creative with yours.
The Jumpsuit are making fashion grounds, and there is no stopping to the comfortable and chic style. Everyone and anyone at any age and time can wear a jumpsuit. 
Celebrities are really bringing back the jumpsuit back in trend and we are seriously crushing on them.
What is not to love about this beautiful piece of clothing? the jumpsuits are one of the most comfortable and yet sophisticated styles from strapless to backless and there is a style for every occasion.
Sometimes you might want to play dress up, but don't want to stress your head about which combo will go best, the jumpsuit will be your savior there.
Are you convinced that you need a jumpsuit in your wardrobe?
Please share your thoughts in the comment section
Source : Allure Vanguard
Images : Google