It has been reported that popular Ivorian singer, DJ Arafat, has been declared dead after a ghastly road accident in Abidjan, today.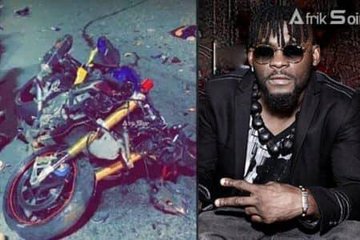 According to reports gathered from social media, DJ Arafat had been driving a motorbike and he crushed into a vehicle. After being critically injured, he was taken to an Abidjan emergency clinic, where he unfortunately later passed on.
Davido who is clearly heartbroken took to his Twitter page to tweet "RIP Yorobo. I love you!
Originally named Ange Didier Huon, DJ Arafat was born in Abidjan in 1986. DJ Arafat had millions of fans in French-speaking western and central Africa. In his lifetime, he issued 11 albums, mainly of "coupe-decale", a dance music form which combines choppy rhythms with hip-hop-style vocals.
DJ Arafat was the son of Tina Glamour, also an artist, and the deceased musician Houon Pierre. He was considered one of the most popular African artists in Francophone countries around the world.
As a matter of fact, he  was one of the first in his country Ivory Coast to obtain 1 million YouTube views in less than a day on his song 'Moto Moto'.
May his soul rest in peace. Please leave your comments below.