Don Jazzy's singledom is at risk as a lot of ladies are  looking out to become "Mrs Don Jazzy". Much like this young lady, Lahaadee who claimed she was carrying the Mavin boss's child.
Despite all his attempts to keep his relationship and intimate life private, these ladies are still on his case.
In a comment on Instagram, the young lady claimed she was pregnant and Don Jazzy immediately responded. He demanded to know where and how she got pregnant for him.
See their exchange below:
This is not the first time a lady will be claiming to be pregnant for Don Jazzy and if his relationship life wasn't secret, these claims might have come in more often. However the record label owner has set the record straight, saying "I don't have any child out of wedlock"
When asked about rumors making the rounds that he may have a child stashed somewhere, Don Jazzy replied to the best of his knowledge: "I didn't hear anything about having a child outside wedlock. I don't have a child yet or maybe somebody has a child for me somewhere and they don't want me to know about it but I don't know why they won't want me to know about such a thing. If anyone has a child for me, they should bring the child forward. To the best of my knowledge, I don't have a child yet."
However, about a year ago, after the Super Eagles beat Iceland in the World Cup tournament, Don Jazzy was very excited at the possibility of impregnating a girl.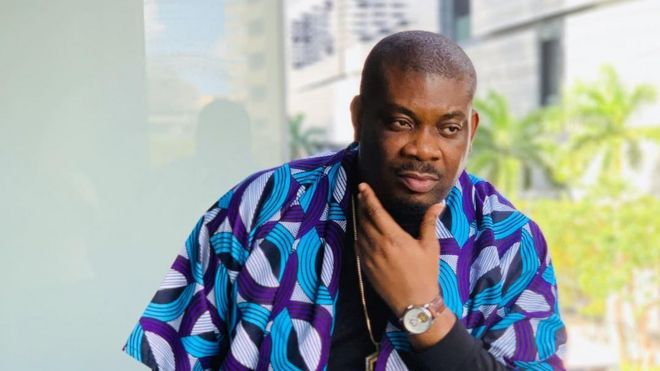 After a successful outing against Iceland and the celebrations that followed, Mavin Records boss, Don Jazzy, took to Twitter to celebrate Ahmed Musa and the Super Eagles. In his excitement, he dropped a Twitter post about impregnating a girl. He said that any girl he gets intimate with that night will not miss pregnancy. He wrote: "We did thissss. If I catch any geh this night. Na belle straight. #Worldcup"
We did thissss. If I catch any geh this night. Na belle straight. 👯‍♀️👯‍♀️👯‍♀️👯‍♀️ #Worldcup 🇳🇬

— ITS DONJAZZY AGAIN😉 (@DONJAZZY) June 22, 2018
His tweet prompted Davido to react by replying: "Ginger come join guys!!!! No too do ooohh slow and steady wins d race"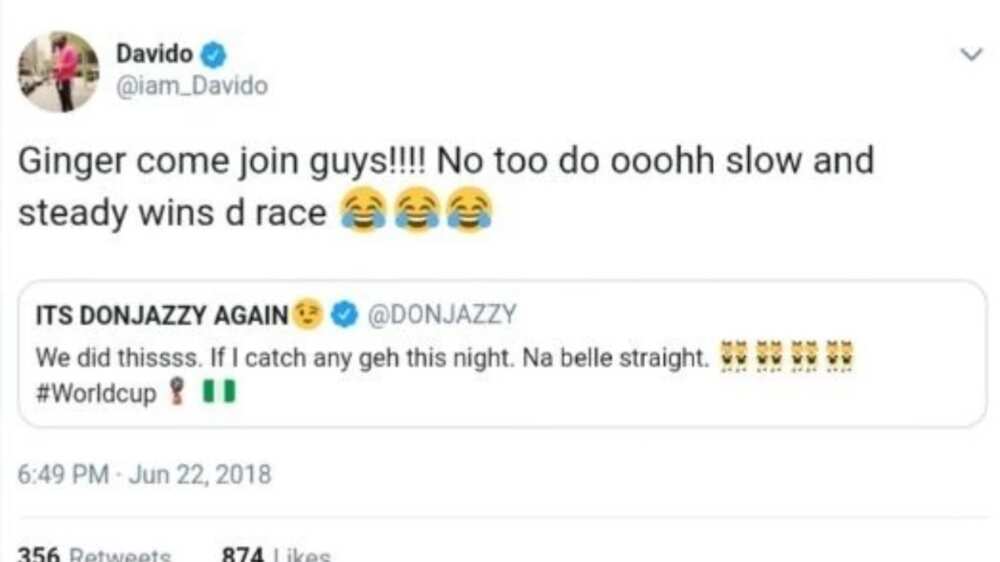 Share your thoughts in the comment section below
Source: Legit.ng/ Yabaleftonline.ng