US-based Nigerian rapper Speed Darlington, has called out Nigerian music bloggers: NotJustOK and Naijaloaded for offering his songs for free download on their platforms. Expressing his anger, Speed, wished death on the music platforms and the owners for uploading his songs latest release Akamu.
He took to his Instagram page last night, June 11, 2019, to post his rant: "@NotjustOkay I need you to remove my song. I hear you offering it for free download. Sudden death will find you if you don't remove my song. Years ago, when I was popping heavy, I asked you, you didn't respond. Then we met in Texas, you introduced yourself to me. In my mind, I was like so this is the guy that snubbed me, now you posting my song without my permission for free. Don't let sudden death find you, now remove my song."
Recall that Speed Darlington, while promoting his song Akamu (PAP) said PAP actually connotes his political party as he claims
he is aspiring to become Nigeria's next president in the year 2023. In his post, he mentioned that if the song goes viral and he
makes enough money from it, he will have the required funds to run for the Presidency and promised all African-Americans in
the United States of America free Nigerian citizenship if he emerges the President of Nigeria.
Juat recently, Speed Darlington was in the news for something very unexpected and unrelated to his music career. While reacting to photos of Nollywood actress, Destiny Etiko, he asked if her behind is real or fake. The curvy Nollywood actress posted pictures of herself flaunting her backside and this elicited a reaction from the rapper.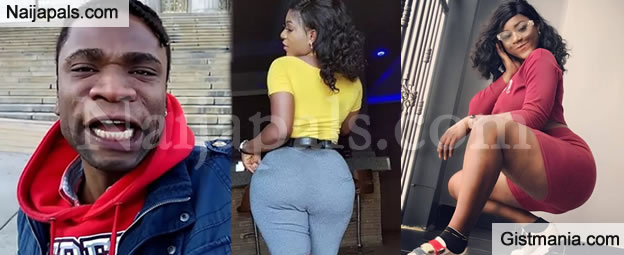 Well, this question is not really out of line considering the fact that a lot of people are doing a lot of surgeries now. He wrote:
"Is that a real a** or fake a**? I can't tell because the way Nigerian girls is rushing fake a** you will think they from Dominican Republic."
In fact, the Instagram rapper, Speed Darlington threw what appears to be a shade at Tonto Dikeh who celebrated her birthday on Sunday, 9th of June, 2019. According to a post he shared which had a picture showing multiple syringes inserted into a lady's behind, he wondered if that was what Tonto Dikeh went through when she had her cosmetic surgery.
He wrote:
"Tonto Dikeh, I heard you got your a** done in that interview you did few days ago. So this is what you had to go through? Wow! What matters is that it's big and the belly is not huge. Happy birthday."
Well, Tonto Dikeh was not the only one that felt some kind of heat from Speed Darlington on that day. Earlier, he questioned if singer Teni was gay. This was after she was seen rocking socks which had rainbow prints on. He wrote:
"'Nigeria is she gay? I mean lesbian? is she trying to tell us something'. I hope not because if she's openly gay that music no go pop again I know this for sure Nigeria is very religious country nobody is booking gay musician. She going to need to move to white country because of that."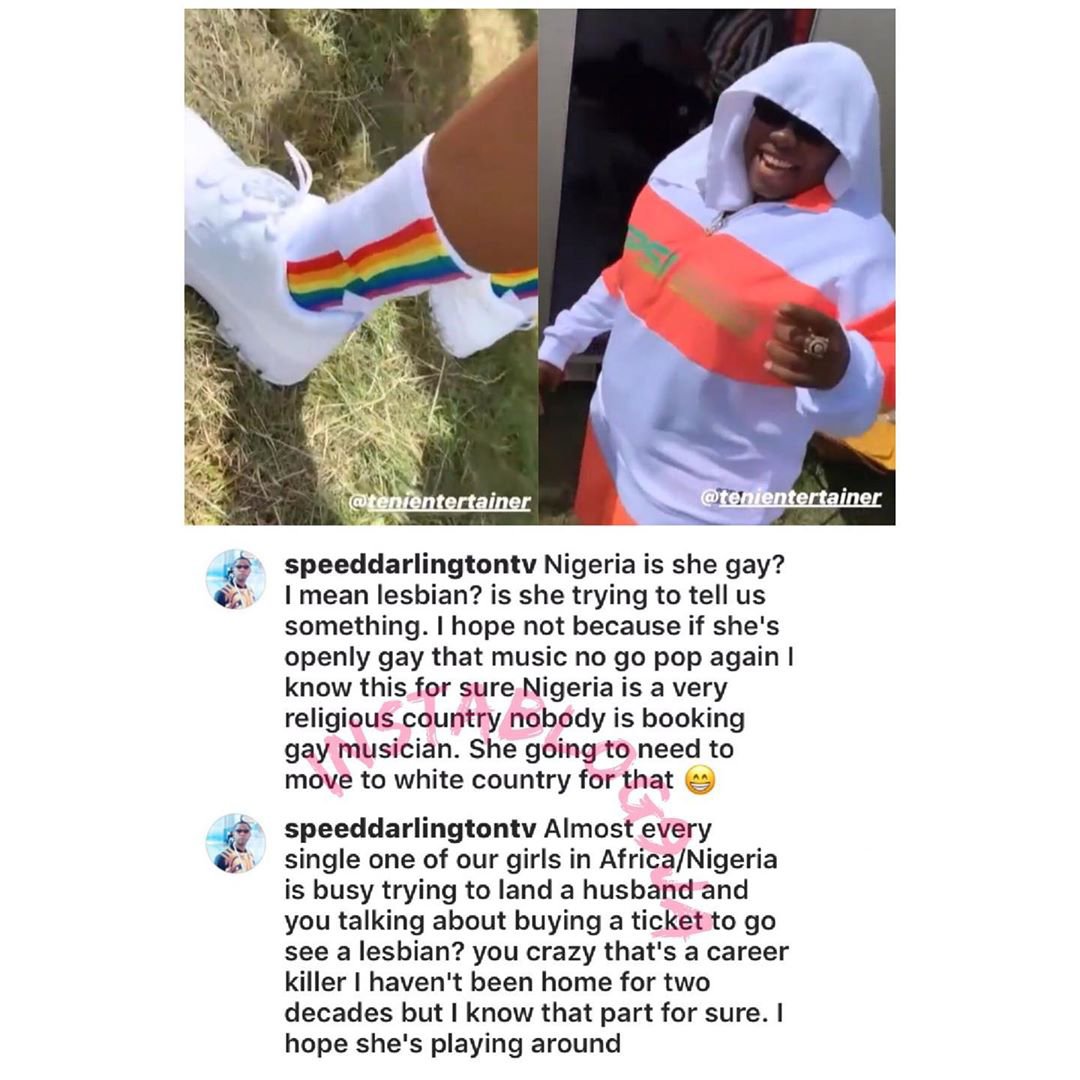 Speed Darlington is one expressive man, and we doubt if he is going to stop calling out notable celebrities anytime soon. Please share your thoughts on this with us in the comment section.