Regardless of the unsettling economic situation in the country, Nigerians are a strong, special people who always leave a mark wherever they go and in whatever they do. The biggest news yet has come for sensational singer, Davido concerning one of his songs as the fourth best selling song currently in the world.
Davido has definitely been setting the records straight for those who think his exploits in the music industry is a fluke since his break-out to the music scene. He has pushed Afrobeats — weightless, polyrhythmic pop songs often sung partly in English — to a completely new level of global popularity. "Fall" has been steadily rising on the Billboard R&B/Hip-Hop Airplay charts since it entered in early January of 2019 and it continues to entice listeners who encounter it for the first time.
The latest feat means that Davido has achieved an unbelievable feat as his 2017 hit single; "Fall" becomes a major force to reckon with in terms of digital sales all over the world. Billboard recently published the five songs that are currently enjoying the biggest digital sales in world music and Davido's "Fall" occupies the number 4th position.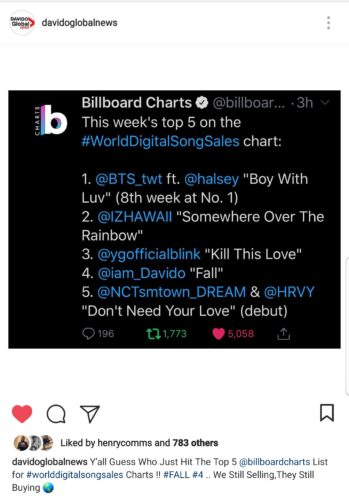 "Fall" was released in June 2017, it became an instant hit in Nigeria and Africa as both the young and old vibed excitedly to its unique sound and simple lyrics. "Fall" was only recognised as a major hit in Africa until about a year and the half later when it began to gradually pop heavily in America. It enjoyed and still enjoying massive radio airplays in the US as well as moved up really speedily in the Shazam charts as a lot of people wanted to have it on their mobile devices.
Davido continues his brilliant form in the US as his 2017 hit single is doing absolutely well on the billboard charts and radio as well. There are several instance in which the song has broken local and international records.
Remember that in March 2019, "Fall" entered into the top 20 most played songs on US radio. The song did a wonder when it moved into Billboard's top 20 of most played Hip-hop/R&B in the US after occupying the number 17th position.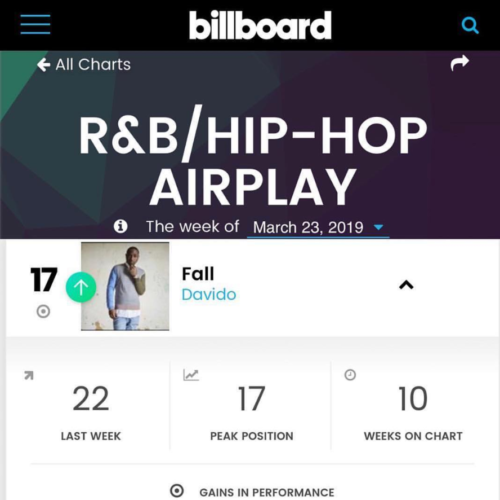 "Fall" also reached another milestone of achievement on social media video platform, YouTube in December 2018. The video hit 100 million YouTube views, making him the first Nigerian to ever achieve such majestic feat. The continuous rise of the song is a major testament of his growing popularity on the global stage, especially in America, a place he has always wanted to conquer.
Another major achievement was in February 2018 when Davido announced that "Fall" had gone Platinum (1,000,000) in sales. The singer made this announcement via an Instagram post which included a picture showing post with multiple plaques including two MTV Awards.
An album gains platinum or diamond when it hits a particular number in sales in a country. The number varies in countries depending on the country population. In the United States, a track or album gains diamond when sales reaches more than 10 million units while platinum is gained when a track or album has sold over two million copies.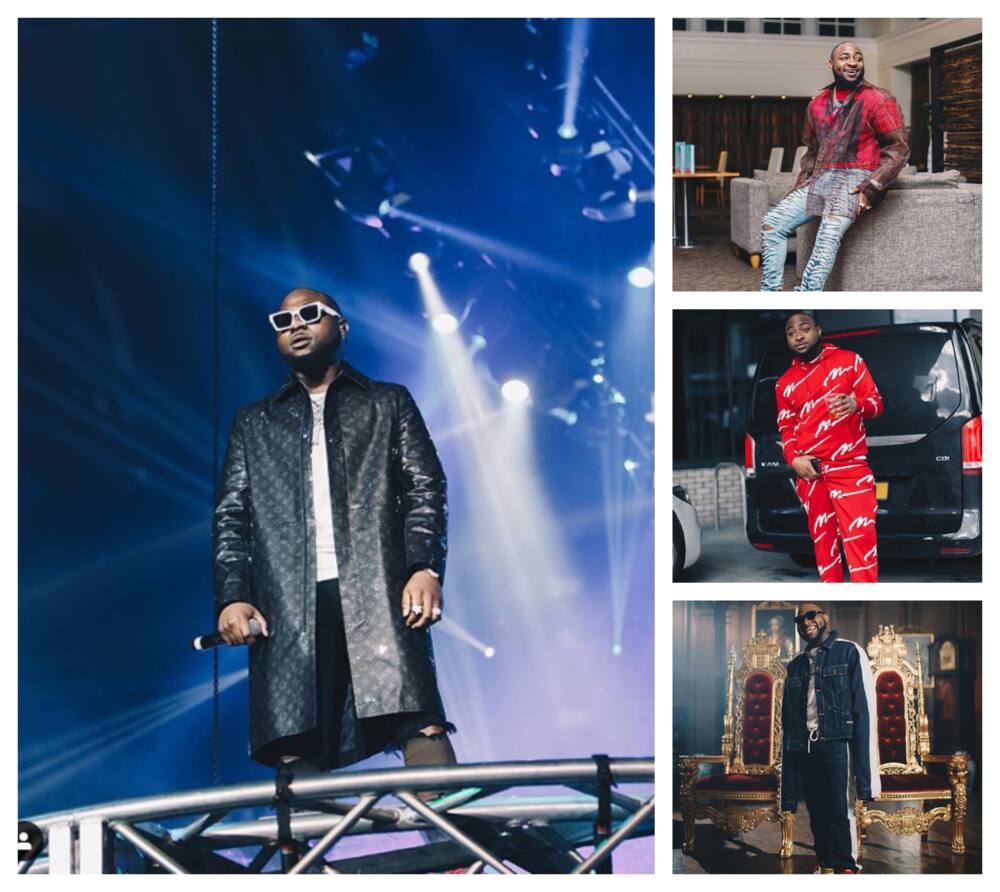 That was not all. As at Tuesday, March 5 2019, the crossover hit had spent eight weeks on the chart peaking at the No 26 position since it made its way into the charts in 2018, nearly a year after it was released. This is a record that has never been solely achieved by any other Nigerian song.
In February 2019, it was hailed as the longest-charting Nigerian single in the history of the Billboardcharts — a platform which tabulates the relative weekly popularity of songs and albums in the United States and elsewhere.
Oh, you thought that was all? It isn't. In February 2019 as well, Fall" rested comfortably on the top 100 most Shazamed songs, where he is currently the only Nigerian artiste. Davido's assertion that he is "the biggest [African] in America right now" is now certainly indisputable.
Of late, Nigerian artistes have been riding high in the international music market and it gives one a sense of joy to know that foreigners appreciate the sounds which emanate from our shores. He is doing his motherland proud and expanding the frontier of African music. He is arguably the most buzz-worthy entertainer in Nigeria at the moment, everything Davido touches is largely a success.
He is currently the poster boy of Nigerian music and his influence and prominence is such that his peers aspire to reach his height. Davido's hunger is unrivaled. That hunger helped him cultivate a large fan base and a staunchly loyal following. In spite of his tumultuous, potentially distracting relationship baby mama drama, the incredibly talented singer has continued to forge ahead, unwavering. His performances are renowned for being electrifying and charged. He is one Nigerian artiste that creates quality, globally appealing music with an African touch.
The whole of African sound and Afrobeat at large is at a point where the rest of the world have started subscribing in and want to be associated with the pattern in terms of rhythm, sounds and vibe. African Afrobeat sound is slowly spreading into international countries such as Europe and America, international music companies are signing up more African artists to their label so as not to be left behind in the development.
To be honest, Afrobeat making marks around the world won't be complete without mentioning this delectable singer. Expect Davido to continue to be a refreshing voice on more star-studded tracks in the near future. His movement is just beginning to take shape in the global market.
We expect another banging hit like "Fall" that will break more local and international records from the singer in the nearest future before he finally quits music. Kudos, Davido!