On social media, erring on the side of caution is key and most bloggers have learnt that. Before most people post anything these days, they have scrutinize, edit and also get their facts right so that there is no room for anything to be misconstrued. Rumours have been going round that Toyin Abraham has secretly gotten married to fellow actor, Kolawole Ajeyemi. While Toyin has yet to say anything on the matter, Kolawole Ajeyemi has denied being married to anyone says its all rumors.
Kolawole Ajeyemi took to his Instagram to rant. He even went ahead to curse the bloggers involved in the rumour going around the internet. Check out what he said below:
"I strongly believe that ignorance is worst than illiteracy. When one is considered an illiterate there is still hope of learning and  acquiring knowledge. On the other hand when one is ignorant, thinking they already know all but painfully, all they knew are so wrong and offpoint. FAKE BLOGGERS. It's a very bad thing to publicly use peoples pictures and mentioning their names in your Wrong assumption."
"Sometimes it's easy to get pissed off at these set of people but what I feel for them now is just a mere pity. Because the Bible said and I quote " WOES TO THEE THAT SPOILEST, AND THOU WAST NOT SPOILED; AND DEALEST TREACHEROUSLY, THEY DEALT NOT TREACHEROUSLY WITH THEE. WHEN THOU SHALT CEASE TO SPOIL,THOU SHALT BE SPOILED; AND WHEN THOU SHALT MAKE AN END TO DEAL TREACHEROUSLY,THEY SHALL DEAL TREACHEROUSLY WITH THEE.(Isaiah 33:1) God said in his words…we should love one another,don't do things that will pull down a fellow human down Mentally,emotionally and spiritually."
"My advice to those bloggers is…..Do your findings well before you send wrong informations (RUMORS ) to the general public.Stop posting my pictures and mentioning my names in your rumors if you don't want God to destroy everything you have laboured for. How can you be so lazy in brain not to makes findings before spreading your dirty rumors? Fine!! There is freedom of speech but freedom after speech is not certain….let's be guided."
This is coming days after Toyin Abraham took to social media to deny another rumour being peddled about her. According to Legit, it was believed by most of her fans that she is pregnant and is expecting a baby soon. Well, she has once and for all, put to rest the claim that she was pregnant through her replies to her fans" comments. The popular and beloved Nollywood actress had  posted a picture on Instagram where she spotted a ring on the ring finger of her right hand. She followed it with the caption, "No matter how much it hurts now, someday you will look back and realise your mistakes changed your life for the better."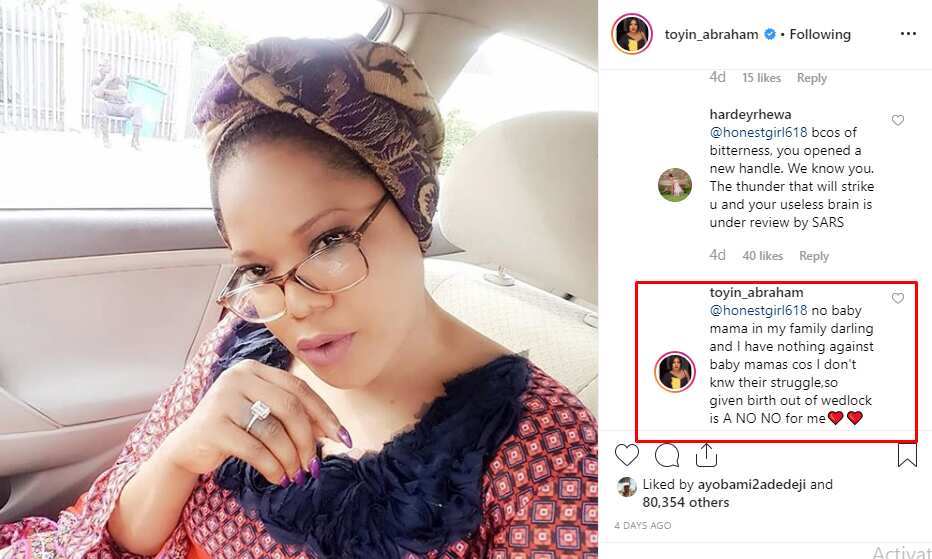 The rumour about her being pregnant got to her notice when her fans took to her Instagram page to congratulate her on her pregnancy. They particularly celebrated what they thought was the incoming of a bundle of joy. In fact, an instagram user with  the handle,@ honestgirl618 replied by commenting, "When they start showing ring on their hand, just know they have given birth out of wedlock."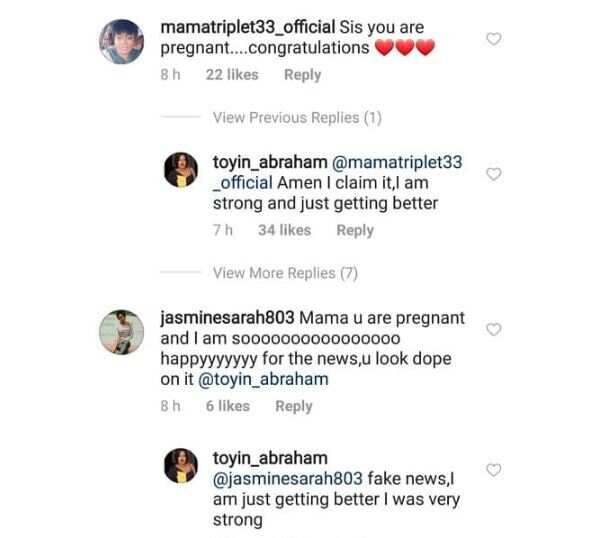 Upon seeing most of these comments, Toyin took to replying to her fans. She debunked the claims vehemently but still claimed the blessing passionately. This she did by saying 'Amen' to her fans' prayers. Following all these rumors, the actress politely told a fan off, saying, "No baby mama in my family darling and I have nothing against baby mamas cos I don't know their struggle, so giving birth out of wedlock is a no no for me."
Please share your thoughts on this with us in the comments section.