Toyin Abraham is on the topic of pregnancy yet again. She has incessantly pleaded with her fans to stop teasing her with any pregnancy  rumour when she herself has not come out to say she's pregnant. But fans refuse to be silenced, they will say their mind. So once again, it seems the veteran actress has been forced to upload another pregnancy- related post on her Instagram page.
According to LEGIT.NG, the last time she begged fans to stop with the pregnancy post was about a month ago when the Nollywood actress Toyin Abraham reiterated to her fans that she is not pregnant. She has had to do this yet another time due to a photo she shared on her Instagram page.
The picture which was of her on a movie set has been misinterpreted by many. In the photo, Toyin Abraham looked every wit a pregnant woman. She wore a red maternity gown coupled with a headscarf wound around her head. But that was not even the part that was tale-telling.
It was Toyin's face that screamed pregnant. Her once fair skin looked darkened and swollen. This very pregnant-looking picture has caused many fans to congratulate her on her page. In a festive manner, they showered her with a lot of congratulations. This was despite the fact that Toyin had clearly indicated in a caption that the photo was from a movie set.
See fans reactions below…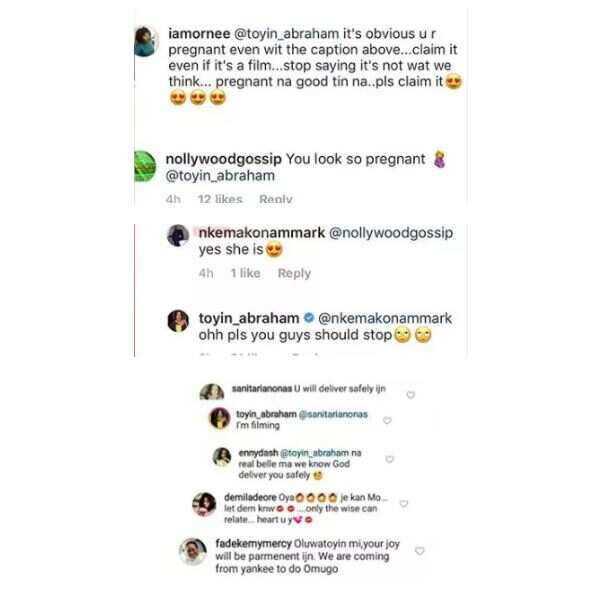 She's not alone in her fight against womb watchers though, even fellow Nollywood actress Adesua Etomi has had to deal with womb watchers in the past. Adesua Etomi addressed her 'womb watchers' after a particular tweet posted a tweet which was addressed to her. In the tweet, the individual commented on how the actress was being constantly trolled by many on Twitter over not being pregnant.
The screen diva who is married to musician Banky W seems to have had enough of those trolling her for not being pregnant yet. Hence, she has given them a piece of her mind.
Her comment was in a reply to a chat with one of her supposed fans on social media platform Twitter recently. She said; Me I no send. I shall live my life. Sooner or later, they will realise that my uterus is not their home. Nobody can pressure me," she wrote.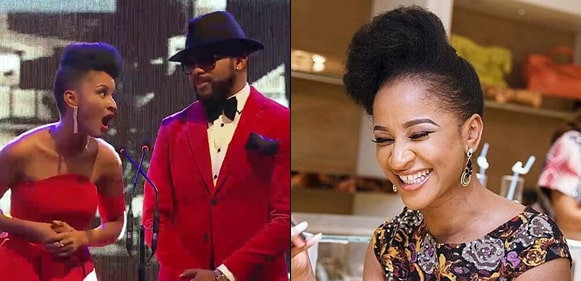 According to her, she intends to live her life knowing that, one day, the womb watchers will realise that her uterus is not their home. Adesua also asserted that nobody can pressure her into doing anything she does not want to do. See her post below…
Share your thoughts in the comment section below…