The term 'baby mama' and it's less famous equivalent, 'Baby Daddy' has gradually, unconsciously, and typical of all things copied from across the Atlantic, made its way into the Nigerian vocabulary and has today become not only popular and trendy, but is also playing a critical role in shaping our culture. With more of our celebrities who have huge social influencer credentials getting caught up in this syndrome and advertising it proudly, it is no surprise that suddenly being a "baby mama" or "baby daddy" as the case may be, has become a cool thing for many of our impressionable youngsters and teenagers.
The baby mama fever has hit us big time and its becoming the latest trend in the Nigerian entertainment industry. With artists like WizKid, Davido, Flavour, Ice Prince and D'prince leading the way, it's little wonder every artiste wants to have one too. But some Nigerian celebrities have really surprised us by not jumping into the trend even when everybody expects them too! We mean the likes of Don Jazzy and MI should have fathered 20 kids by now but no they haven't and this has clearly surprised us all.
With all that money and a musical empire, Don Jazzy should by now be swimming in baby mama scandals and be second in line with 2baba as the father of all nations but the producer and Mavin boss has been able to avoid such. How he does it? Nobody knows!
It is no longer a matter of age and period in the industry, as even though youngest and newest are swiftly marking registers in the trending hall. For pop musicians Davido and Wizkid, it can be seen that one advantage that the duo have going for them is their relatively young age. Both in their twenties, they have both been in the spotlight for more than five years now. While both Davido and Wizkid enjoy a healthy rivalry on the music stage, they also share a keen likeness for making kids with different women.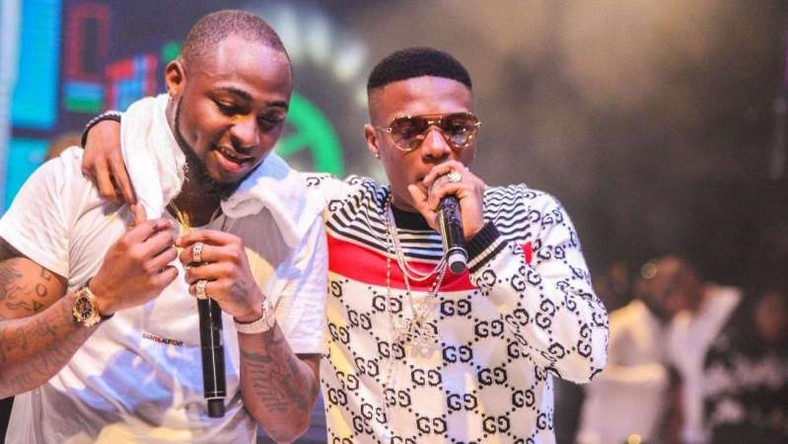 As young as Wizkid is, he is not free from baby mama drama as the young man already has 3 kids from three different women. Wizkid's first baby mama is a young woman named Oluwanisola Ogudugu. She gave birth to Wizkid's first son named Boluwatife in 2011 when she was still a teenager at age 19. Wizkid's second son is from a woman based in America that is of Guinean descent. Her name is Binta Diallo. When she became pregnant Wizkid denied that he was responsible, however a DNA test showed that he was indeed the father.
It was said that he created an Instagram page for his three sons and named the page @thebalogunboys on Instagram. The page shares photos of Wizkid's three sons,however that didn't go down with Diallo as she stated that her son Ayodeji is not a part of the Balogun family and Wizkid can go ahead and love his other kids. Actually, Zion is Wizkid's third and youngest baby born in 2017, this time Wizkid managed to do without a long struggle and fight and recognized the baby very quickly. Maybe, the reason is that he's grown or because the baby's mom is somewhat elder and more decisive than the first two.
Jada Pollock is a brand consultant from Britain. She used to work with Chris Brown and Pia Mia before she started the same consultancy work with Starboy. The cooperation started in 2014 and in 2017, they were already having an affair, which led to the birth of the lovely boy Zion in November. Unlike all the previous cases, Wizkid agreed to accept his third son without any scandals and condemnation from the audience. Now, he has already decorated his body with a tattoo carrying the three names of his sons. It looks so touching compared to his behavior several years ago!
Davido made his debut in the Nigerian music industry in 2011 when he released a single titled "Dami Duro", ever since the popularly  pop star has been sweeping awards and dropping hit songs. Initially, Davido's career was free from drama as he is successful and ranked as one of the most bankable musicians in Nigeria, however he was hit with some baby mama drama some months back.
Davido has two kids, Imade and Hailey from two different women, Sophia Momodu and Amanda respectively. Although, Davido and Sophia Momodu had several disagreements in the past, they now appear to have a good understanding for the sake of Imade. Davido had a short relationship with Sophie,back then he was 21 and Sophia was 26. When Sophia announced that she was pregnant Davido claimed that he wasn't responsible,but after the birth of Aurora Imade Adeleke a DNA test proved that Davido was indeed the father of Imade.
Davido's second baby mama is a young girl named Amanda who is based in the United  States,this time around Davido was sure that he was the father of his 2nd baby girl as he was present during the birth of his 2nd  daughter named Hailey Veronica Adeleke. As for Amanda, there's been no form of media-disagreement between them, even in the face of the strong romance between Davido and girlfriend, Chioma Avril Rowland.
And just as many Nigerians predicted, it has been alleged that Chioma is carrying Davido's child and might just be his recognized 3rd babymama. A new video that just surfaced online shows Davido's girlfriend, Chioma with a protruded tummy which fans are interpreting that they are allegedly expecting their first child together. Recall that few months ago, Davido revealed his plan for Chioma whom he continues to shower love on. He boldly declared that he is looking forward to getting married to Chioma.
A fan asked him what plans he had for Chioma, and he wasted no time before replying. The fan asked; "What are your plans for the future?… Are you going to marry Chioma our sister?" The Singer replied saying "That's the plan"
Davido and Chioma are reportedly expecting their first child together since they made their affair public in 2017. In the video recently posted on social media, Chioma was seen with a bigger belly and bigger b**bs. Their fans have concluded that, its her pregnancy that has been keeping her off the public eye.
If this is true, Chioma and Davido have a lot of controversies coming for them. Following the widespread rumour that Davido's girlfriend Chioma is pregnant, a number of fans and trolls have already come out to tease the young lady and call her out for supposedly getting a 'bun in the oven'. One of them who happens to be a big fan of Davido's competition, Wizkid released a video in which she taunted the young lady for getting pregnant despite all the claims of Assurance she seemed to be getting from Davido. This lady, alongside a friend, also claimed that Davido never sows his seed in a woman twice, so with Chioma pregnant, he was bound to abandon her soon after she delivers. According to the lady and her friend, Davido's interest in Chioma is already beginning to wane and he will abandon her like a piece of trash and dump her for good. Their words were not said kindly in the least. Check out the video below:
View this post on Instagram
Sometime ago, while celebrating Nigeria's victory over Iceland, Mavin Records Boss, Don Jazzy, said he'd impregnate someone's daughter due to the excitement. Taking to his twitter page he wrote: "We did thissss. If I catch any geh this night. Na belle straight. #Worldcup" Davido, who probably felt the entertainment mogul was going to join the gang of celebrities with multiple babymamas, immediately reacted to the tweet, welcoming Don jazzy to the baby daddy squad in advance. Check out his tweet below:
Oh well, we all can see that Don Jazzy really knows his onions and has steadily refused to become entangled with the mess that the baby mama situation usually comes with. The escape from marital commitments to focus on raising a child has made many followed this trend. And while some have chosen to stick with just one baby mama, others have gone the extra mile to have more children from different women. Wizkid and Davido really need to sit back, think about the future and not just their current situation before making decisions that would affect generations and generations. Having a child is cool, it just becomes weird when a particular man decides to sow his seed in almost every woman he meets.  Davido and Wizkid have to sit up, and learn how to zip up!