It has been reported that ex-BBNaija star Gifty Powers who has always kept her fans entertained with her na*ed photos, has come through again with a nude photo for all her fans.
Gifty who shared her nude photo via her Insta-Story, took the photo while on a boat cruise. The reality show star who had always said Kim Kardashian is her role model captioned the photo;
 "I know you love me". 
Former Big Brother Naija 2017 housemate and actress, Gifty Powers just released another nude picture of herself on social media.
It seems that the former reality star does not care much about what people might say or how her nude pictures affect her brand as the photo came with the caption;
"Life Is Sweet. My Page, My Business".
Meanwhile, recall that Gifty Powers recently weighed in on Regina Daniels' marriage to billionaire businessman Ned Nwoko. The beautiful mother of one praised her for paying the huge sacrifice and becoming the 'white sheep' of her family.
This very pleasant reaction doled out by Gifty Powers is coming in the midst of the several scandals generated by the teen actress' marriage to an older man. In spite of the disapproving comments coming from many Nigerians, Gifty has decided to see the whole event from a positive angle. In this regard, she praised Regina Daniels for being brave and determined.
According to Gifty, the actress has proven herself to be a leader willing to make a huge sacrifice for her family. Gifty also revealed that she has been in the actress' position in the past so she understands how it must feel. The former BBNaija also consoled Regina with the popular saying that 'age is nothing but a number'.
Even more, Gifty praised Regina Daniels' mom and clearly stated that the older woman was doing what was best for her daughter. See her post below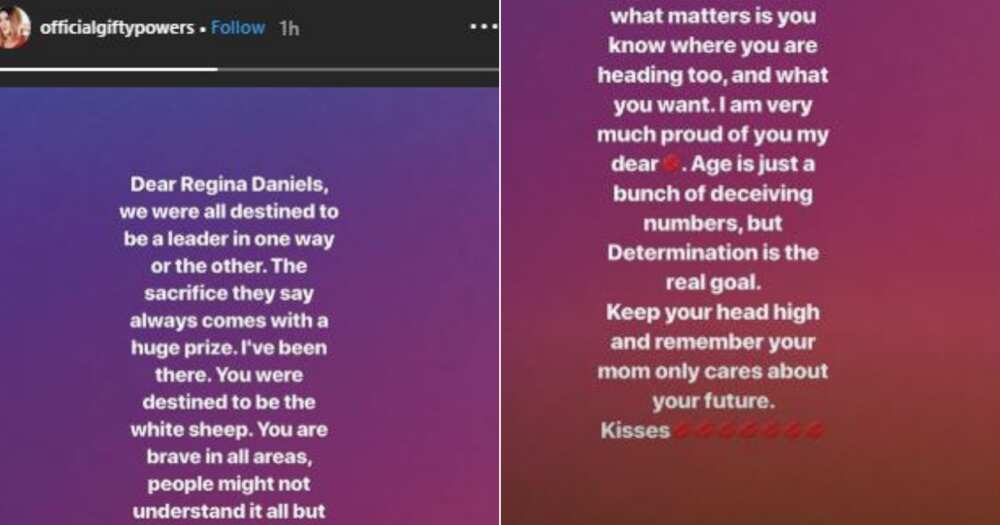 Gifty Powers who formerly denied that she was never married in series of interviews, once confirmed that she was married and it was a dark period in her life that she would not want to go back to.
The actress and model had revealed the role her failed marriage played in motivating her during the difficult stages of the audition for the reality TV show on her Instagram page.
Gifty wrote;
"I'm thankful for my struggles because without it I wouldn't have known my strengths. I remember the 10 difficult stages at the Big Brother auditions that I passed through… at a point I wanted to give up but I said to myself "If I could survive a miserable marriage, what is a mere audition?" Now, here I am…I survived… I conquered. Thanks to everybody that keeps showing me love and to those that hates me I will say hahahahahhahahahahahaha….. Make i no forget my Oh oh ohhhhhhhoh jawe!!!! #GODCANBLESSANYBODY #NEVERGIVEUP #ITSJUSTGOD #SURVIVOR"
Source: Uncle Suru
What do you think about this? Please share your thoughts with us below