The Cool FM OAP and leader of the free the sheeple movement, Daddy Freeze who is known for his constant bantering against churches and pastors especially with Leke Adeboye, the son of Redeemed Christian Church of God (RCCG) G.O Pastor E.A Adeboye. Freeze took to his social media page to wish him a happy birthday.
The light-skinned OAP wished Leke well, despite their constant disagreements over issues concerning the church, pastors, and religion.
"Dear Leke, it is Daddy Freeze here, convener of the Free Sheeple movement and leader of the Free Nation. I bring you glad tidings. Since this is my favourite picture of yours, I want to say happy birthday and I pray we will get along if Yeshua wills it" he wrote.
It would be recalled that sometime last year,  Daddy Freeze sent a lengthy response to Pastor Adeboye's son, Leke Adeboye who stated that Nigerians should stop asking the church for any financial assistance.
Freeze didn't like the statement when he saw the video of Pastor Leke Adeboye of the Redeemed Christian Church of God, RCCG, on Instagram telling Nigerians to farm and use their produce for trade by barter instead of begging the church for financial assistance. Daddy Freeze reacted to Leke's statement, he started by sending warm greetings, he wrote that;
 "how are you and how is your daddy? Tell him I send my utmost regards and kind considerations."
Then, Daddy Freeze asked,
"You are making a lot of sense with this trade by batter suggestion, but let me ask you this, does your dad pay his private jet pilots with cassava or rice? Does he exchange garri for aviation fuel?".
Freeze goes on to offer his own advice writing,
"Charity they say begins at home, why not start by collecting tithes and offering in grains and cattle like it was originally intended in the Bible?".
"The 'jokers' you mentioned so respectfully, could go to one of the numerous redeemed schools littered across Nigeria, can't they? This shouldn't be rocket science. You speak of money 'saved'. I ask from where precisely? Through what means was this money 'earned'? Do accept my kind regards to yourself and Pastor E. A. Adeboye, your father".
There was also a time in 2018 when Leke Adeboye, son of the General Overseer of the Redeemed Christian Church of God (RCCG), took to his Instagram page to thank Daddy Freeze as he shared a photo telling his followers and Freeze of how there was an increase in people paying their tithes, viewing RCCG events, and people reaching out to him through emails. Leke shared the photo with the caption: 
"Thank you my brother. @DaddyFRZ".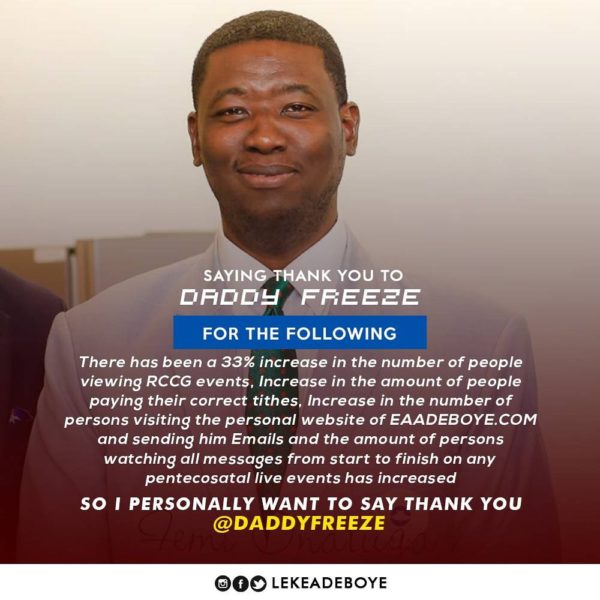 Recall that another scenario occured last year when Daddy Freeze reacted to a sermon by Pastor Leke's 70-year old mum where she advised young Nigerians to make sure that they seek the counsel of their pastors even before their parents when they make up their mind on marriage.
Daddy Freeze reacted to the sermon by saying;
"are these people beginning to manifest early signs of senility. These teachings have no recourse to the Bible! Jesus himself said you shouldn't give money meant for your parents to the temple, let alone this trash".
Almost immediately after Freeze reacted, Pastor Leke sent a warning to him through Whatsapp messenger saying, read the chat below;
  '" will come after you and yours".
Source: Kemi Filani/Linda Ikeji/Pulseng/Bella Naija
What do you think about this? Please share your thoughts with us below