It has been reported that the Lagos state police has arrested Baruwa Eleniyan, the head of the touts who assaulted one Shoki Shitta for disrespecting Wizkid and praising Davido on Instagram.
The arrest comes barely 24 hours after a video of Baruwa Eleniyan and his boys beating Shoki Shitta went viral – Shoki was
assaulted by the hoodlums for publicly criticizing Wizkid for not settling them in Shitta, Surulere in Lagos state. According to
reports, Baruwa was arrested on Wednesday night and put in Police custody – the Police allegedly obtained a text conversation
between himself and Wizkid. The text included details to Wizkid on how Shoki was nabbed and being dealt with.
Baruwa Eleniyan had in the video accused him of allegedly going to a shop owned by Wizkid's sister, yesterday, after hearing that
Wizkid was in Surulere for a short visit. Shoki Shitta could be heard denying the claim. See the screenshots of the text below;
Recall that Davido offered the sum of one million naira to the street tout, Shoki Shitta who was beaten up by Wizkid fans for
disrespecting Wizkid and tailing his sister to their fast food outlet. In a recent video, Shokki Shitta called out Wizkid for not
giving them money when he came to Shitta in Surulere but went on to praise Davido, declaring his allegiance publicly to the
chairman of 30 billion gang.
In the video, the street tout told his gang members playing a Wizkid song to switch to Davido, as he went on hailing Davido.
Shoki claimed they were given lots of money when Davido shot a video in Shitta with US rapper, Cassanova. He went on to say
that Wizkid is no longer a member of the hood.
The video showed Shoki Shitta rolling on the floor, crying and begging Wizkid to tell his boys to leave him alone. He went on to
call Wizkid the boss and apologized for his earlier statements where he placed Davido above Wizkid.
Davido who watched a viral video of Shoki Shitta being beaten for praising him decided to support his fan by giving him one
million naira which he announced publicly.
The comparison among fans regarding the competition among Wizkid and Davido isn't coming to an end soon as both singers
continue waxing strong in the Nigerian music scene. The two artistes, Wizkid and Davido over the years have earned themselves
a lasting spot in the heart of their fans who keep rooting for them and their music to say the least both on and off social media.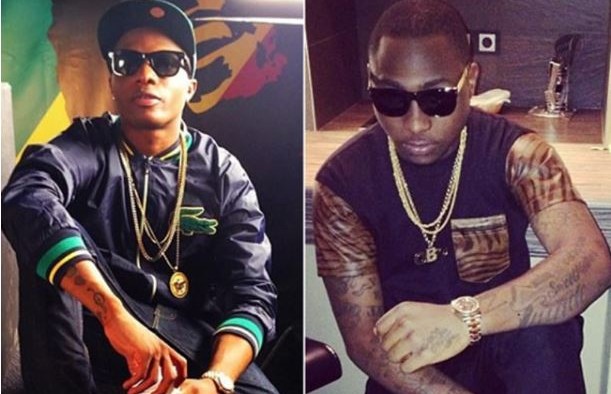 While Wizkid can boast of 7.4 million Instagram fans, Davido has been crowned "the lord of new media" in the Nigerian
entertainment industry as he has 10.7 million followers on Instagram as at the time of this report.
Of course, the number of followers a star has on social media is definitely not a measuring stick to quantify who is truly winning
in the music scene between the two ace artists who are making Nigeria and Africa proud. With this recent happenings, it seems
Davido is moving mountains to win the hearts of Nigerians.
Source: Yabaleft Online
What are your thoughts on this? Please leave your comments below.