BBNaija 2017 reality star, Gifty Powers, sure knows how to set tongues wagging and this time is no different as she recently took to her social media platform to reveal that her ex-husband is impotent, amidst many other allegations. Recall during the 2017 BBNaija reality show, news broke on the internet about the Anambra-born actress' marriage to a man identified as Soro in 2014. However, it was reported that they got divorce shortly after. Although, the ivory actress initially denied the reports, she eventually admitted to being married to the movie director for a brief period.
In a recent Q&A on Instagram, the mother of one who claims to be married opened up about her ex-husband and how he once threatened her. bThe reality star claimed her ex-husband once threatened her after the divorce. Gifty who was in a relationship with Nigerian singer, Mr. 2kay, was rumoured to have birthed a child for the singer; something she continuously denies.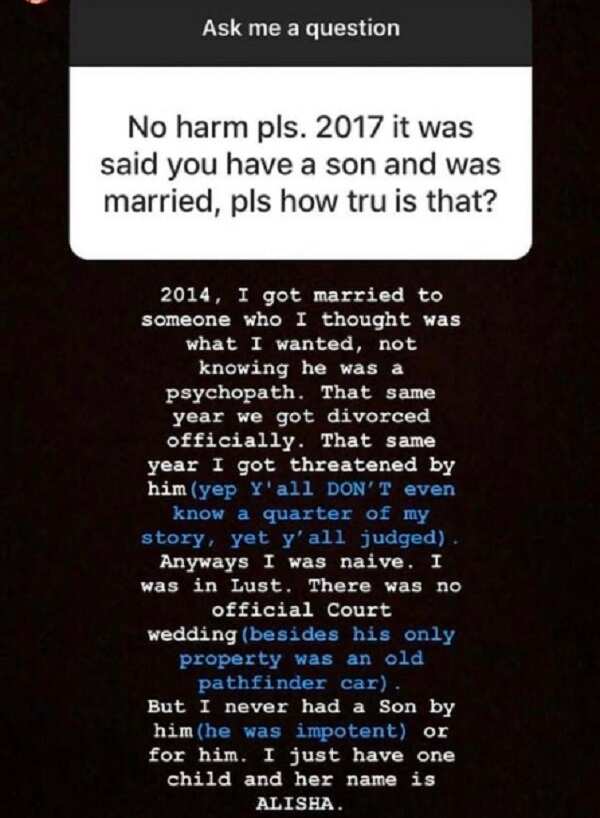 When asked yet again if he was the father of her child, she sarcastically avoided giving a clear answer. She avoided giving a direct answer when asked about the paternity of her daughter, Alisha.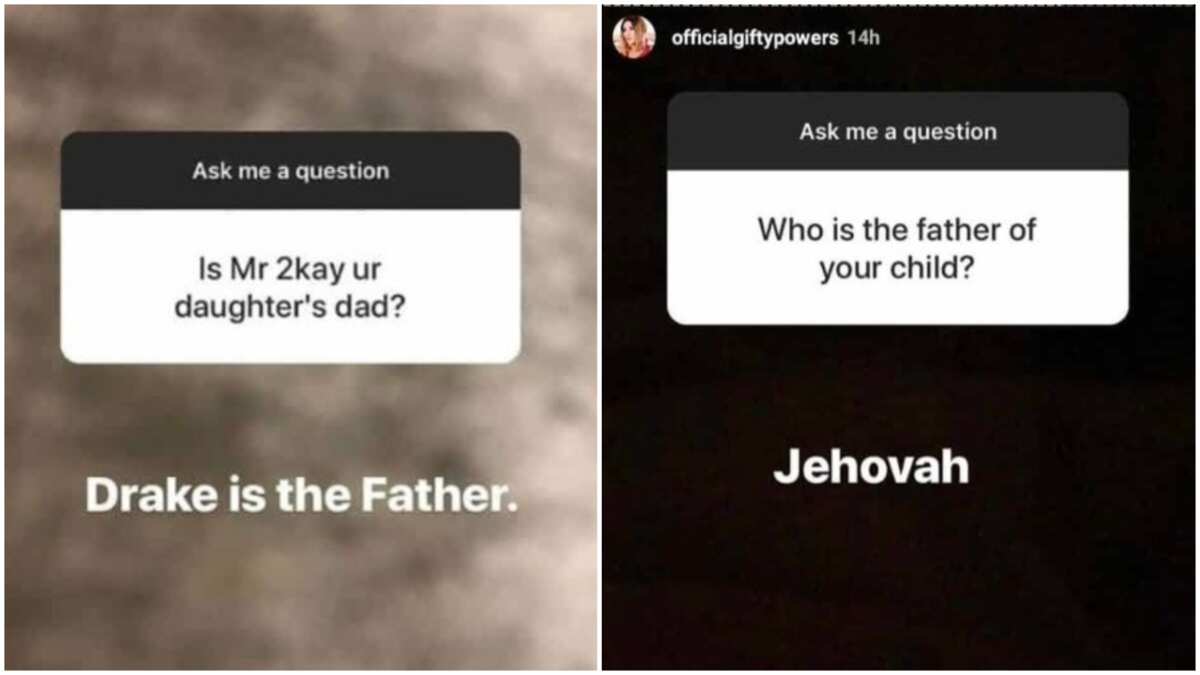 You will recall that ever since former BBNaija housemate, Gifty Powers, welcomed the birth of her daughter, Alisha, just over a year ago, she had been swimming in murky waters of controversy, especially concerning the identity of the father of the child, who, her one-time lover and singer, Mr 2Kay came to claim as his own. Although many had besieged the reality star with questions on the identity of the father of the child, given how the pregnancy and birth of the girl was enshrouded in secrecy, but nothing of serious consequence ensued until she celebrated the child's first birthday some months ago.  No sooner had she posted the picture of the little girl, with stirring birthday message than her old flame, Mr 2Kay, joined the fray with a message of his own. "Happy birthday to my Sunshine (Alisha is one today) daddy loves you so much. May God keep on protecting you and showering His blessings on you endlessly my little princess and you look so much like your big brother," he had posted. To which Gifty replied, "Only a mother knows the real true identity of her child's father. Any other noise trying to stay relevant in the industry is nonsense." And Mr 2Kay had responded again, "When a true father loves his daughter, DNA so true."
Source: Legit.ng