Ex-beauty Queen,Anna Banner came under fire earlier this month after she rang in the new year in Cameroon, with her baby daddy, Flavour. Many accused her of having a low self esteem because Flavour just welcomed his third child ,a boy with his first babymama and rumoured wife, Sandra.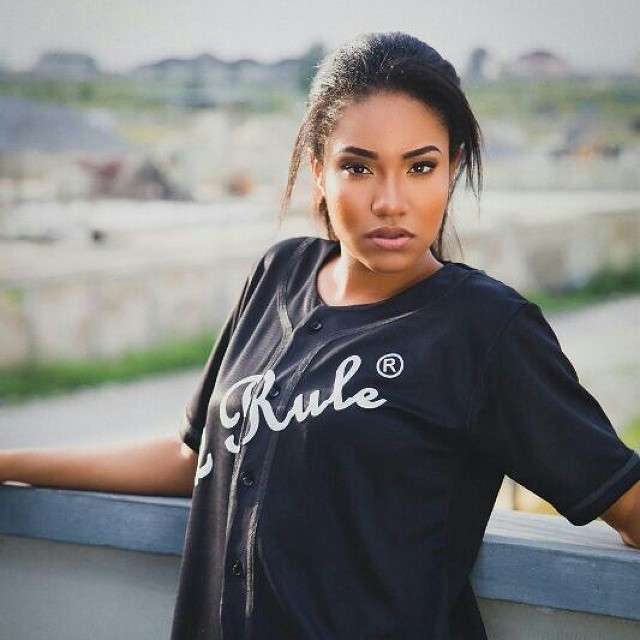 Well, Anna has a message for her haters. She shared a video with caption. 'How I laugh at people that sit behind their phones and judge #imherelivingmybestlifeandyourestillhating'.
Former beauty queen, Anna Banner, not only attained stardom when she won in the Most Beautiful Girl competition in Nigeria some years back, but becoming singer, Flavour's baby mama added to her popularity. And as much as she said she never used her pregnancy to 'hook' the singer, Anna, in an exclusive chat with Saturday Beats, also said she was still in love with Flavour, even if he has yet to marry her after having a child for him.
"I couldn't have purposely got pregnant because I wanted to hook a star. I was already a star too. I wasn't looking for fame; I was even running away from fame. But I got pregnant for somebody I really loved. It wasn't planned. It was my mistake but I wouldn't call my child a mistake. I was careless. But I thank God it happened with a man who I loved and who didn't turn his back on me.
"When you love someone, it is hard to fall out. You cannot fall in love today and fall out of love tomorrow. Love is strong. Before you tell somebody you love him, you have to be sure. Flavour was the first man I fell in love with. I still love him as the beautiful soul he has and as the father of my child. I don't know what the future holds but we are just taking things one step at a time."
She got pregnant after she featured in Flavour's Golibe video but Anna said her relationship with the singer had nothing to do with the video. "Some people have got it twisted. It wasn't because of the video that I had a child for him. We didn't start dating because of the video either. It just happened and it happened."
And as Flavour has another baby mama, Sandra Okagbue, and who he has yet to tie the knots with either, Anna said she is not jealous of the other woman in his life. "Why should I be jealous? We are all humans but what will be will be. If you get jealous today, where will it lead you to? All I want is for my child to be happy."
Recalling how she felt when she found out she was pregnant, the young lady said she was devastated. "I was demoralised. I was finished! I was frustrated! My parents were disgusted at my sight. It was my cross, so I had to carry it. I decided I was going to keep the baby even if I wasn't married. It turned out to be the best decision I have made. I am not saying it is good to get pregnant at a young age and have a baby but whatever choices you make, you need to know there are consequences and you have to get ready to face the consequences. I was ready to face mine and I will not advise anybody to get pregnant at a young age. But if you get pregnant, abortion is not the next step."
Probably because of her experience in life, Anna said she intends to set up a foundation in future. "I am going to have a foundation and I hope it turns out the way I want. It is about empowering young girls just like me not to give up. A lot of young girls got pregnant at a young age just like me and they gave up. I just want to encourage them that this is not the end of the world; you can do so many things. It is never late to go back to school. Age is just a number, your child will grow up to love and appreciate you. Even if it is not school, learn how to do something, empower yourself."