American model Angela Renée White, a.k.a Blac Chyna has announced that she will be visiting Abuja, the nation's capital, for the first time for a party.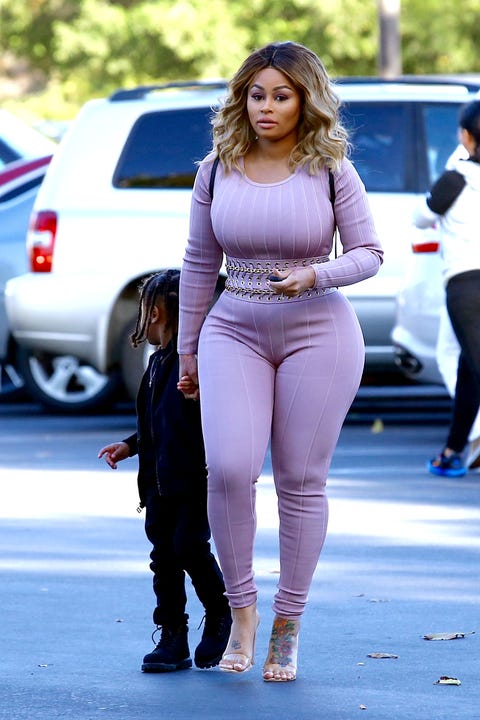 The former stripper and mother of one disclosed this on her IG page, describing Nigeria as her 'motherland.' She wrote: 'Hello Nigeria!!! I am visiting the motherland finally to party with the playnetworkafr in Abuja'."Shout out to Charlesofplay and hit him up for invites."
Miss Arafat Balogun, Manager of Play Network Africa (PNA), in an interview with to the News Agency of Nigeria (NAN)in Abuja confirmed that a deal worth 30,000 dollars has been struck between the model and PNA.
According to her, a deal has been struck with Blac Chyna's management team to host its 13th annual private pool party on Nov 24, in Abuja.
'A deal in the excess of 10 million Naira has been agreed, excluding travel plans and accommodation.
'It is going to be a private event at an undisclosed location'
While confirming some details of the contract to NAN, Arafat Balogun said that a specific time frame has been set for her attendance.
"Blac Chyna will spend no less than two hours at the private event, she could possibly elapse this time range depending on her team. The curvy model shares a daughter with Rob Kardashian, a sibling of reality queen, Kim Kardashian.
Play Network is a network of Professionals, Entrepreneurs, entertainment and lifestyle enthusiasts in Africa aiming to improve entertainment and business networking in the Federal Capital Territory. The Network runs the famous Play Lounge in Wuse 2, Abuja and recently opened its second lounge at Transcorp Hilton, Abuja.
It regularly holds PNA business evening discussions and lectures by business enthusiasts and partners. In a bid to improve entertainment in Abuja, the network partnered with Transcorp Hilton for the Halloween Party held earlier in the month. The Network is organising an "all girls trip" to Cape Town, South Africa worth 600,000 Naira per person on Nov 29 to Dec 4.(NAN)
Chyna began stripping in Maryland to pay for college tuition. While attending Johnson & Wales University in Miami, she resumed stripping but was too exhausted to attend classes. She dropped out after repeatedly falling asleep in class, focusing instead on stripping and modeling. She borrowed the name "Blac Chyna" from a customer. While stripping at a popular Miami club, her exotic look made her popular; radio host Angela Yee described her as looking "like someone who was going to be famous". In 2010, Drake name-dropped her in "Miss Me". Her rising popularity led to modeling jobs on the covers of Dimepiece, Straight Stuntin, and Black Men's Magazine. Later in 2010, she was cast as Nicki Minaj's stunt double in Monster.
In February 2013, Chyna enrolled in JLS Professional Make Up Artist School. In December 2013, she launched her online boutique entitled "88fin", filled with new clothing and products from her clothing line of the same name. That same month, Chyna launched her own brand of adhesive eyelashes called "LASHED by Blac Chyna". In February 2014, Chyna purchased a beauty bar in Encino, Los Angeles, offering makeup courses.
Please leave comments below