Iconic British-Nigerian soul singer Henry Olusegun Adeola Samuel popularly known as Seal has arrived his ancestral home on Thursday. it was understands that he is in Nigeria to see Afrobeat singer and instrumentalist Femi Kuti, son of Afrobeats legend Fela Anikulapo Kuti.News of the international singer's visitation broke after photos of him and Femi at the Afrika Shrine surfaced on Instagram.
Henry Olusegun Adeola Samuel (born 19 February 1963), known professionally as Seal, is an English singer and songwriter. He has sold over 20 million records worldwide,his first international hit being the song "Crazy", released in 1991, and his most celebrated song being "Kiss from a Rose", released in 1994.
Seal has won multiple awards throughout his career, including three Brit Awards; he won Best British Male in 1992, as well as four Grammy Awards and an MTV Video Music Award. As a songwriter, he received two Ivor Novello Awards for Best Song Musically and Lyrically from the British Academy of Songwriters, Composers, and Authors for "Killer" (1990) and "Crazy" (1991).
He was a coach on The Voice Australia in 2012 and 2013, and returned to Australia to work as a coach in 2017.In the 1980s, Seal spent a short time singing in local clubs and bars. In 1987 he joined Push, a British funk band, and toured with them in Japan. In Thailand he joined a blues band for a while before separating from the group and journeying throughout India on his own.
He returned to England, sleeping on the couch of friend Julian Bunster, then a model. He sometimes asked him "do I sing well?" to which he often received the response that he sang better than most current artists. He then met the producer Adamski and was given the lyrics of the song "Killer", which was a huge hit in 1990 and catapulted his career
Although there have been rumours as to the cause of the scars on Seal's face, they are the result of a type of lupus called discoid lupus erythematosus, which affects the skin and leaves large scars.Seal's brother, Jeymes Samuel, better known as The Bullitts, is also an accomplished singer-songwriter.
Seal first began dating German model Heidi Klum in February 2004, shortly after she announced her pregnancy and end of relationship with Italian Formula One team manager Flavio Briatore. Seal proposed to Klum on 23 December 2004 in a quinzee he had built on a glacier in Whistler, British Columbia.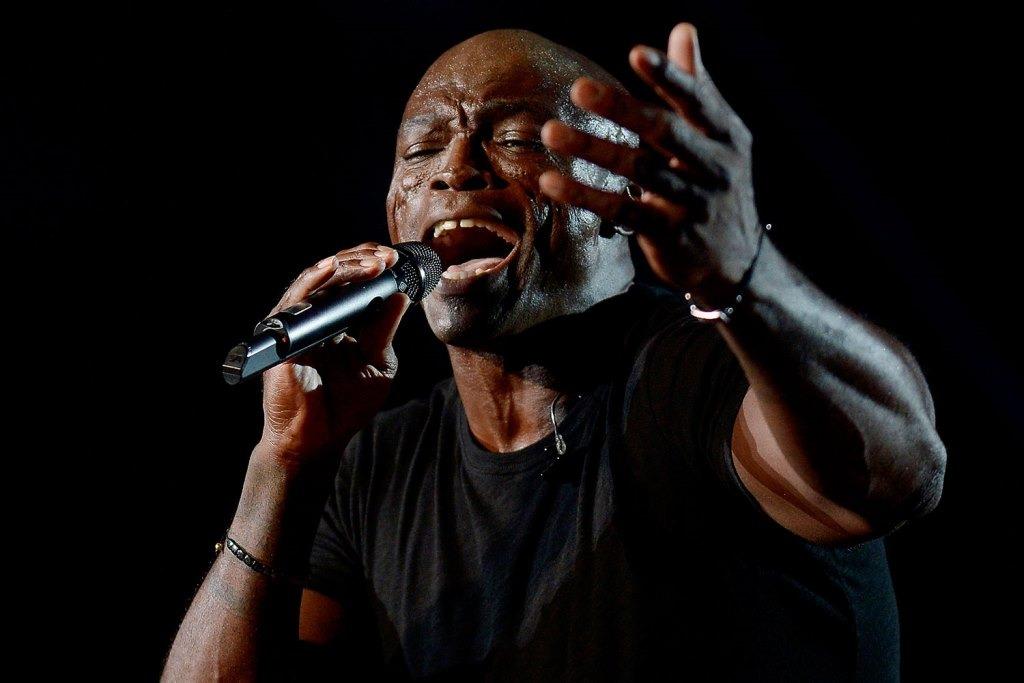 On 10 May 2005, the couple married on a beach in Mexico near Seal's home on Costa Careyes. Every year during their marriage, Seal and Klum renewed their vows on their anniversary with close friends and family. About these renewals, Seal said in 2010, "Each year, Heidi and I get remarried. It's a great party, but for about an hour, we go off on our own down to a private beach. We sit there with the kids and read vows to each other as the sun sets. It's a very special moment to us."