Following tweets shared by Serena Williams on Tuesday night accusing officials of discrimination after confirming that she has been tested more than any other female player this year. In a video, rapper Common was questioned on his Serena's latest 'discrimination' tweet, and he said that she's being discriminated against because she is a black woman.
In his words: "As a black woman, do you think she's getting discriminated against? YES. If they're testing her more than anyone else, it's a reason for that. And there's conscious and subconscious and I would say conscious is the fact that she's a black woman and they're looking for some reason to be able to take her down and discredit her … but she's the queen!" Common added: "She's one of the greatest figures in sports EVER and leaders. She's an incredible human being. I don't know why they wanna bring her down. She does so much for the sport."
…and it's that time of the day to get "randomly" drug tested and only test Serena. Out of all the players it's been proven I'm the one getting tested the most. Discrimination? I think so. At least I'll be keeping the sport clean #StayPositive

— Serena Williams (@serenawilliams) July 25, 2018
Serena Williams says she is a victim of "discrimination" as she is the most drug tested American tennis player.The 23-time Grand Slam singles champion made the claim in a tweet on Tuesday, after doping officials visited her. The American had previously expressed frustration about the volume of her tests earlier this month."Out of all the players it's been proven I'm the one getting tested the most. Discrimination? I think so," said the 36-year-old.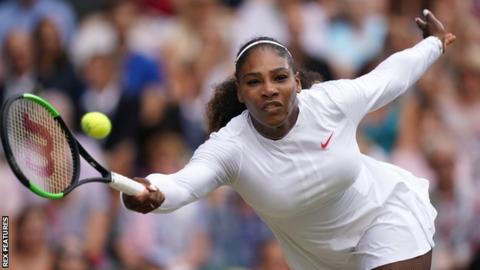 An article published by website Deadspin in June revealed that Williams had been tested out of competition by the US Anti-Doping Agency (Usada) on five occasions in 2018.It also claimed the player was not present when Usada officials visited her home on 14 June – Williams stated that the tester showed up 12 hours earlier than the agreed time.It was eventually marked as a "missed test" – three of those would result in a Usada doping violation.At the time of publication of the Deadspin article, Williams had been tested more than twice as many times as other top American players – male or female – including US Open champion Sloane Stephens (one) and sister and multiple Grand Slam winner Venus Williams (two).
Williams was asked about the findings of the report during Wimbledon earlier this summer."I never knew that I was tested so much more than everyone else," said the seven-time champion, who lost to German Angelique Kerber in the final."Until I read that article I didn't realise it was such a discrepancy with me as well as against the other players that they listed, at least the American players – both male and female."
It is understood that the doping test Williams claimed in her tweet to have had on Tuesday was not conducted by Usada.