A Nigerian young man Samuel Udoetuk-Wills, 28, who is being investigated in Ghana for kidnapping and killing three young Ghanian girls claimed that he was a Fulani herdsman, Lauretta Onochie, the Special Assistant on Social Media to President Muhammadu Buhari has said.
According to Mrs Onochie, the Nigerian kidnapper lied that he was a Fulani herdsman, but a search shows that he could be from Efik or Ibibio.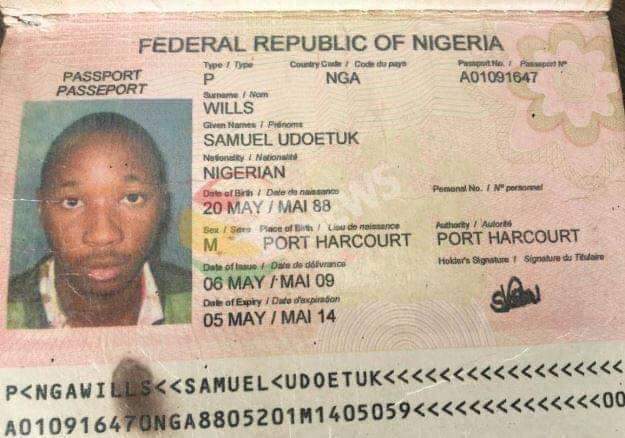 "SO SAD! Samuel Udoetuk, a young Nigerian kidnapper, who plied his criminal trade in Ghana kidnapped and killed 3 young female captives. He claimed he was a Fulani herdsman and that the only Fulani town he knows is Jos! He just wasted three lives. Sad," the social media aide tweeted.
A friend from the Southsouth said "Udoetuk" is a name popular among Efik and Ibibio people, located in Cross Rivers and mostly found in Akwa Ibom State.
His passport shows that he was born in Port Harcourt, a popular city in the South-south geopolitical zone of Nigeria.
The prime suspect was accused of kidnapping three Takoradi girls-Ruth Quayson, Priscilla Blessing Bentum and Priscilla Koranchie-in 2018 and their whereabouts unknown.
Human parts were found in a septic tank at his former residence, but he told police interrogators that the human parts found could not be those of the missing girls. He also claimed that the victims are still alive and are in Nigeria where they were taken to.
Samuel Udoetuk was jailed recently but is still facing other charges before Sekondi High Court after he escaped from jail in December 2018 following his first arrest, Ghanaian online news platform reported.
"We are all tenants and are entitled to our privacy. However, as tenants, we see one another almost on daily basis, but before we are up in the morning, Udoetuk-Wills is off and we hardly see him," a co-tenant was quoted by Daily Graphic.
Foolish woman

— IKE CHIJIOKE CHRISTI (@christi_ike) August 7, 2019
To whom it may concern, jos is not belongs to Hausa Fulani.

— innocent jude dashe (@Innowonda) August 7, 2019
You are a known liar and a known propagandist. So whatever you have here belongs in your heap of agendas.

— Vice Chancellor of Mannittawiw University 🏁 (@chidexAC) August 7, 2019