Following the announcement by the Federal Government that the activities of the Islamic Movement in Nigeria (IMN) have officially been banned, Nigerians have lamented that the action may be a step closer to another terrorist group.
"You want to forcefully create another terrorist group?" a Facebook user, Jhon Tekena Peterson, said.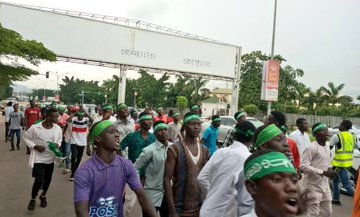 The Inspector-General of Police Mohammed Adamu told newsmen at a press conference in Abuja that IMN which was founded by Sheik Ibrahim El-Zakzaky had been proscribed.
Recall that an Abuja Federal High Court declared the group a terrorist organisation a few days ago following an ex parte application filed by the federal government.
IMN spokesman Ibrahim Musa described the court order as a joke during a press conference.
However, some of those who reacted on social media called for more clarification on the pronouncement.
According to Agwa Jacob, "I believe this is clear misrepresentation of the IGP's address. It should be the activities of the Shi'ites not banning the entire group. why didn't the reporter quote the entirety of this short statement He said anyone who associates with the group will be treated as "an enemy of state" as what the IGP said?
Some Nigerians joined #FreeZakzaky rally at Nigeria High Commission UK. Condemning continued unlawful detention of Sheikh Zakzaky and his wife Malama Zeenah.

CC: @FreeZakzakyNow pic.twitter.com/e1XuRhal73

— Sayyid Zakzaky Office (@SZakzakyOffice) July 29, 2019
"There are organisers of the protest why not pick them up to answer pertinent questions. Fire brigade approach to issues on national security shouldn't be treated the way these are doing.
"We are made to understand there are over 2 million members of this sect, do we see up to two hundred thousand of them on Abuja and Kaduna streets?"
Ever wondered how these Shiite crisis started?
Why El ZakZaky was arrested in the first place and the genesis of these drama?
Why has the Nigerian Government refused to release El ZakZaky despite all the protest by his followers?
This interview with @yesmylo shed light on this. pic.twitter.com/ZZ76oOHEPN

— Social Nigeria (@Social_NG) July 23, 2019
Nentawe Gomiyar said, "there should be a clear distinction between the Shiites as a sect and IMN."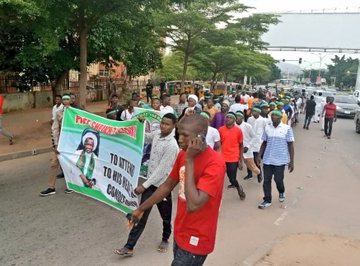 Another Facebook user Babz said, "They are negotiating with bandits and setting Boko Haram free hehe what a country."
A twitter user @Mudi1012 said, "I just hope the Shiites leader doesn't die in FG custody because what will happen might be deadlier than Boko Haram."
More reactions and demonstrations are expected to trail the official banning of the group in the coming days.
VP @ProfOsinbajo is in Kaduna state to visit the family of Previous Owolabi the youth corper that worked with @Channeletv, who lost his life during the Shiite protest. Its really a sad one, the family will appreciate the visit of the VP. May the Lord continue to comfort them pic.twitter.com/9iUM8UwUFR

— sweetj (@JoyLydia10) July 28, 2019
Shiite (Islamic movement of Nigeria) "peaceful protest" Federal Secretariat, opposite Fed Ministry of Foreign Affairs – Abuja – Nigeria pic.twitter.com/c9DwJPGUAl

— Kayode Ogundamisi (@ogundamisi) July 22, 2019
Funeral Prayers for 7 followers of Shaikh Ibraheem Zakzaky of the Islamic Movement of Nigeria, who were killed during a #FreeZakzaky procession at FCT, Abuja.

#Nigeria #Abuja #Shiites #Zakzaky #ShiiteProtest pic.twitter.com/49e92AFgu7

— HIT 95.9Fm Calabar (@HitFMCalabar) July 24, 2019
In The News:

The Body of Precious Owolabi, Channels TV reporter who was killed yesterday during #FreeZakzaky Protest Clash between Police and Shiite members , leaves morgue as NYSC DG pays last respect pic.twitter.com/issMZPhcM5

— National association Of Wailers (@Wailers_00) July 23, 2019
What a sad loss for Nigeria.

I pray God comforts his grieving wife and family of the @PoliceNG officer killed during today's protest by Elzakzaky supporters.

Govt needs to find a permanent solution to the challenges presented by the Shiite group. #Shiites #ShiitesProtest pic.twitter.com/NKUTjDvgDE

— Ileowo Kikiowo (@IleowoKikiowo) July 22, 2019