The detained leader of the Islamic Movement of Nigeria also known as Shi'ites Sheik Ibrahim El-Zakzaky has his governors, commissioners and councillors, Alhaji Muhammed Abacha, son of Nigeria's late military dictator, Gen. Sanni Abacha, has said.
Muhammed stated this in an interview with GateTV the clip of which was posted by Social Naija on Twitter.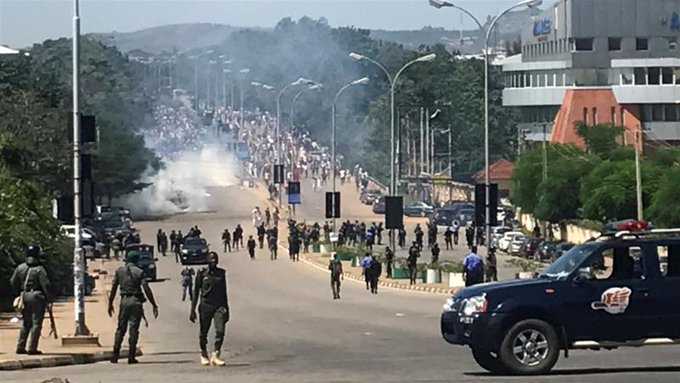 In the 1:59 video clip, the son of the late dictator said the IMN members had been known for their lawless activities in Kaduna State, their stronghold.
"There was a time Shiite members blocked the convoy of the Chief of Army Staff or the convoy of the state governor, I can't actually remember now. One of them called El-Zakzaky and told him to come and talk to his people.
"Do you know what he said? That there are out of control that he can no longer control them. That he had lost their control, that he can no longer control them. That there is nothing he can do.
"You want us to leave such a monster, a group that can not be controlled by their leader? Muhammed Abacha asked.
I wept watching Ijeoma Onyeator announce the death of Precious Owolabi.

He was a 23 yo Youth Corper serving with Channels TV who was shot during the Shiites vs Police clash in Abuja.

A Deputy Commissioner of Police, Usman Umar was also killed.

May their souls rest in peace. https://t.co/JlicttcRo9

— #BBNaija (@onos_147) July 23, 2019
He also revealed that nobody could drive pass the house of El-Zakzaky in Zaria, "Ask Mukhtar Ramalan Yero when he was the governor. There was a time the governor had to park by the side where he barricaded the road to treck and pass through."
He accused the IMN leader of his total disregard to the rule of law before he was arrested after his encounter with soldiers on the convoy of the Nigerian Army Chief of Army Staff.
Rest In Peace to all those who have died from the Shiites VS Police clash.

The government can do better!!!pic.twitter.com/skvdPaLRYR

— SLAY-PAPA ?? (a.k.a Mr. Skye ?) (@TweetAtAustin) July 23, 2019
He accused the Shiite leader of forming his own government within a constituted authority, "He doesn't listen to anybody, he doesn't follow the rule of law."
Speaking on the rights of the Shiite members, Mr Abacha asked, "What right do they have to punch the chest of a military man? What right do they have by stoning the convoy an Army Officer?"
He condemned the activities of the group saying, "They protest every day to infringe on the rights of other innocent Nigerians."
El-Zakzaky has been in detention since December 2015 when he was arrested after members of his group clashed with soldiers.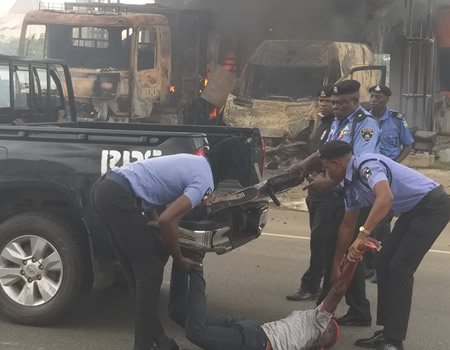 Muhammed Abacha who overwhelmingly supported President Muhammadu Buhari for a second term said the IMN group should be dealt with according to the stipulation of the law.
He described the group as a threat to National Security.
The group has also vowed to continue with their protest until their leader regains his freedom. During their July 22, 2019 protest in Abuja, more than 10 people reportedly lost their lives.
Ever wondered how these Shiite crisis started?
Why El ZakZaky was arrested in the first place and the genesis of these drama?
Why has the Nigerian Government refused to release El ZakZaky despite all the protest by his followers?
This interview with @yesmylo shed light on this. pic.twitter.com/ZZ76oOHEPN

— Social Nigeria (@Social_NG) July 23, 2019