The former Aviation Minister Mr. Femi Fani-Kayode has cautioned President Muhammadu Buhari over the call for proscription of the Islamic Movement of Nigeria (IMN) better known as Shiites.
There are speculations that the Federal Government might proscribe the IMN.
In 2016, Kaduna State Government declared the group as an illegal society after several reports of violence activities in the state.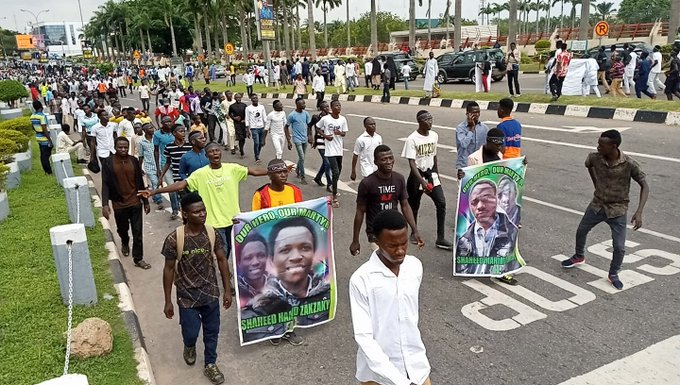 In the last few days, members of the group vowed to continue with their protest until their leader Ibrahim El-Zakzaky and his wife were released by the government, both of them have been in detention since December 2015 after a violent encouter of the IMN members with soldiers on the convoy of the Chief of Army Staff.
Since then, they have held several demonstrations in Abuja, some of which turned violent, leading to the death of some members of the group.
On Tuesday, July 22, 2019 the protest of the group turned violent at the Federal Capital Territory. A Deputy Commissioner of Police, a reporter from Channels TV and more than 10 members of the Shiite group were reportedly killed, while more than 50 members were taken into custody, several vehicles were aslo set ablaze.
The Presidency appeals to El-Zakzaky-led Shiite members to desist from needless violent street protests and await the decision of the court in Kaduna where their leader is currently being tried.

— Garba Shehu (@GarShehu) July 19, 2019
Members of the group looked dogged and daring as they trooped on the street of Abuja Tuesday, a day after they suffered casualities, to protest against the continued detention of Zakzaky.
Reports from Abuja said gunshots were also fired as riot policemen and heavily armed soldiers were seen at strategic locations.
But reacting, Fani-Kayode said, "The biggest mistake that @MBuhari can make is to ban the IMN.
According to him, "The Shia Muslims have every right to practice their faith just as the Sunni Muslims and Christians do. Nigeria is a secular state where freedom of religion is constitutionally guaranteed."
He said President Muhammadu Buhari should obey court order by releasing the IMN leader.
"You cannot lock up the leader of the Shia Muslims indefinitely against court orders, ban them as an organisation and then expect peace.
#ShiitesProtest today and they were around Banex, the management had to shut all the gates till now and everyone is advise to lock themselves in. pic.twitter.com/AstQiqnq2u

— Naija News Point (@naijanewspoint) July 23, 2019
"It would be a monumental and costly error and a recipe for disaster and chaos. Buhari beware! You cannot fight the whole of Nigeria!" he tweeted.
But media aide to Buhari Garba Shehu said his boss has not violated any section of the constitution in the trial of the Shiite leader.
Ever wondered how these Shiite crisis started?
Why El ZakZaky was arrested in the first place and the genesis of these drama?
Why has the Nigerian Government refused to release El ZakZaky despite all the protest by his followers?
This interview with @yesmylo shed light on this. pic.twitter.com/ZZ76oOHEPN

— Social Nigeria (@Social_NG) July 23, 2019