Three people have reportedly been shot dead while several others sustained serious injuries Monday, July 22, 2019 when members of the Islamic Member of Nigeria (IMN) clash with police officers in Abuja.
Channels TV reporter was among those who were hit by a stray bullet. It was gathered that the policemen prevented the protesters from gaining access to the road that leads to the National Assembly.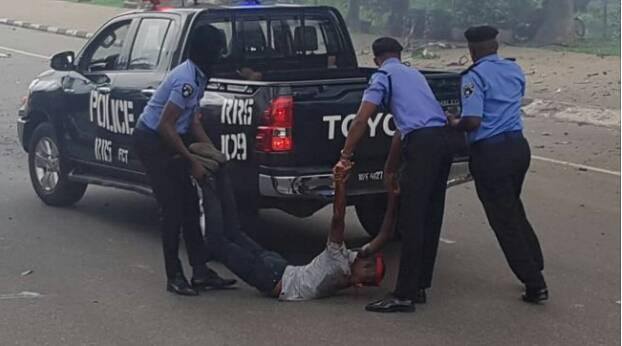 The president of the media forum of IMN Ibrahim Musa who confirmed the incident was quoted as saying "what happened was that we started our procession from NITEL junction and getting to the federal secretariat the police cordoned off the road and started firing at us.
He many several members of the group were shot, "but for now we can only confirm three deaths but several are injured, we don't have a definite figure for now.
He debunked the claim by the police that the group were violent before they were shot. "anybody who said we shot at him is not saying the truth because throughout our processions we have not been carrying any arms right from 2015 to date we have not been carrying arms and we will not carry arms now"The Sun quoted him as saying.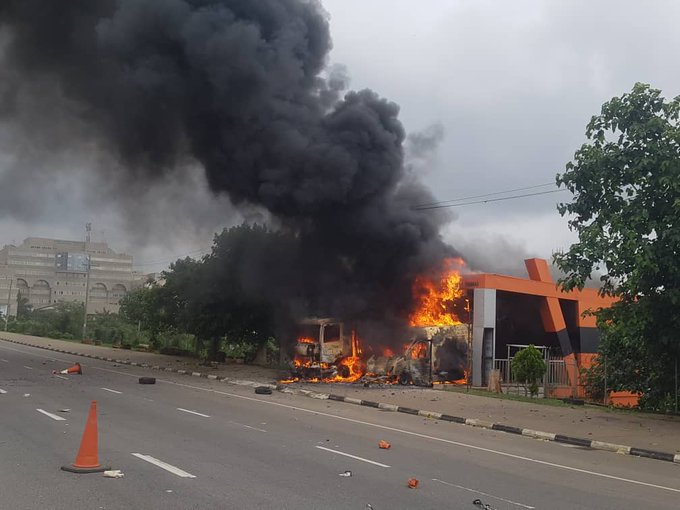 Refuting the report that Shiite members set ablaze the emergency vehicle of the National Emergency Agency (NEMA),  Mr. Musa said it was the police that set up burn fire which led to the burning of the NEMA vehicle.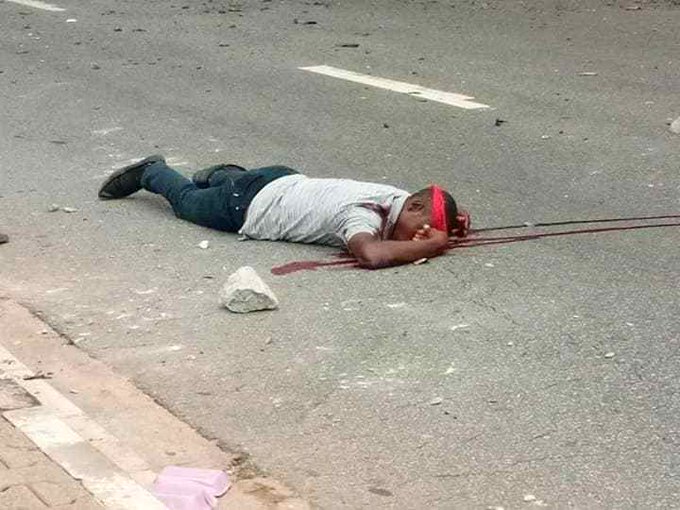 He said, "it is the police who set up the burn-fire and there are videos that indicate that".
Men,women and children are being shot as they peacefully protests for the Right of their leader #zakzaky at Abuja by @PoliceNG pic.twitter.com/piCtb858tA

— DEMAGOGUE .?senior advocat? (@von_Bismack) July 22, 2019
This Is Happening Live Police Clash With #Shiite In Abuja pic.twitter.com/doCDMGaRKJ

— Nuraddeen Manigi (@iNurd33n) July 22, 2019
The group is demanding the release of their leader Ibrahim Yaqoub El Zakzaky who has been in detention alongside his wife since December 2015.
This Is Happening Live Police Clash With #Shiite In Abuja pic.twitter.com/doCDMGaRKJ

— Nuraddeen Manigi (@iNurd33n) July 22, 2019
This Is Happening Live Police Clash With #Shiite In Abuja pic.twitter.com/doCDMGaRKJ

— Nuraddeen Manigi (@iNurd33n) July 22, 2019
Shiites members in bloody clash with Police officer in Abuja again demanding the release of their leader Ibraheem El-Zakzaky who arrested December 2015#FreeZakzaky protest in Abuja#ShiiteProtestsAbuja#ShiitesPoliceClash pic.twitter.com/6yBMUY4fUw

— Naija News Point (@naijanewspoint) July 22, 2019
One of the busiest roads in Abuja just moments ago as IMN protesters moved through the area.

Building pictured is the ministry of foreign affairs pic.twitter.com/7rtkD51tJy

— Bukie Olokun (@bukieolokun) July 22, 2019
Shiite (Islamic movement of Nigeria) "peaceful protest" Federal Secretariat, opposite Fed Ministry of Foreign Affairs – Abuja – Nigeria pic.twitter.com/c9DwJPGUAl

— Kayode Ogundamisi (@ogundamisi) July 22, 2019
This is what is happening presently in Abuja (as e dey hot) Shiites vs police…#Godsaveourcountry ..central area Abuja is messy right now…we need God in this nation pic.twitter.com/Tt0TlQ43Nv

— alubarika media???? (@alubarikaMedia) July 22, 2019