Cultism in Nigeria began as far back as more than a millennia ago, with some alleged seven (7) men who name themselves as the Pyrate confraternity.
In 1952, the renowned noble prize winner, Wole Soyinka was alleged to have started the first cultist group, which include six (6) other men, with the names, Ralph Opara, Ikhehare Aig-Imokhuede, Sylvanus Egbuchie, Nathaniel Oyelola, Pius Oleghe, Olumuyiwa Awe at the prestigious University College of Ibadan, which was then part of the of the University of London.
Pyrates confraternity as the name the secret group of "Magnificient Seven' is called, realised that the University was populated with wealthy students associated with the colonial powers and a few poor students striving to fit into the societal gusto of the rich, while societal acceptance is base on tribal affiliation.
Not wanting to associate itself with the mix flux of hypocrisy that had perverted the prestigious institution, magnificent seven decides to separate themselves. In the voice of the noble laureate, he said we decide to separate ourselves from; "stodgy establishment and its pretentious products in a new educational institution different from a culture of hypocritical and affluent middle class, different from alienated colonial aristocrats".
Spear-heading the fight against conventionality, Soyinka's group adopted the motto; "Against All Conventions", with the skull and crossbones as their logo, while its members were identified as "Cap'n Blood" and "Long John Silver".
Ruling the Nigeria institution for nearly 20 years, the Pyrates Confraternity protested lots of wealthy and affluent demands that tend to create a separation of social life to baseless reason such as who your father was, or how wealthy your parents were.
This is the simple just cause of the originated alleged secret cults started by novelist Wole but the point of emphasis is that the growth of the magnificent 7 was not built on hooliganism, blood-shedding, mindless acts and activities that are unworthy or does not dignify human-hood. They are known with the following saying;
Odas is Odas (010)
No Friend, No Foe (NFNF)
Absolute No Lagging (ANL)
Prof Soyinka group of magnificent 7 thrive, not on violence but on restoring sanity to a society of supposed elites student who is going to become the society that we now live in, hence it would be easy to say that the novelist and his 6 erudite colleague desire, not war and unsafe place for our higher institution attendees with their secret group.
If that is then the case, how did the secret groups spread its tentacles across the width and length of our higher institution, the answer lies in an adherent unwillingness to release alotted powers and position? this led to an internal rift which was limited to just fist exchange when the volatility of the conversation was high, but then things got deeper.
Also, the separation and creation of other cultists group, emerge because other members did not meet the intellectual and academical standard sets by sea dogs, a name they barged after registering as the National Association Of Sea Dogs (NAS).
In a publication by Nairaland Forum, reviewing the history of confraternity in Nigeria, it was revealed that the rift and tension led to the creation of different factions, that was how in 1975, the Eiye Confraternity also known as the (National Association Of Air Lords), started and that began the spread and diverse groups of the new found secret cults.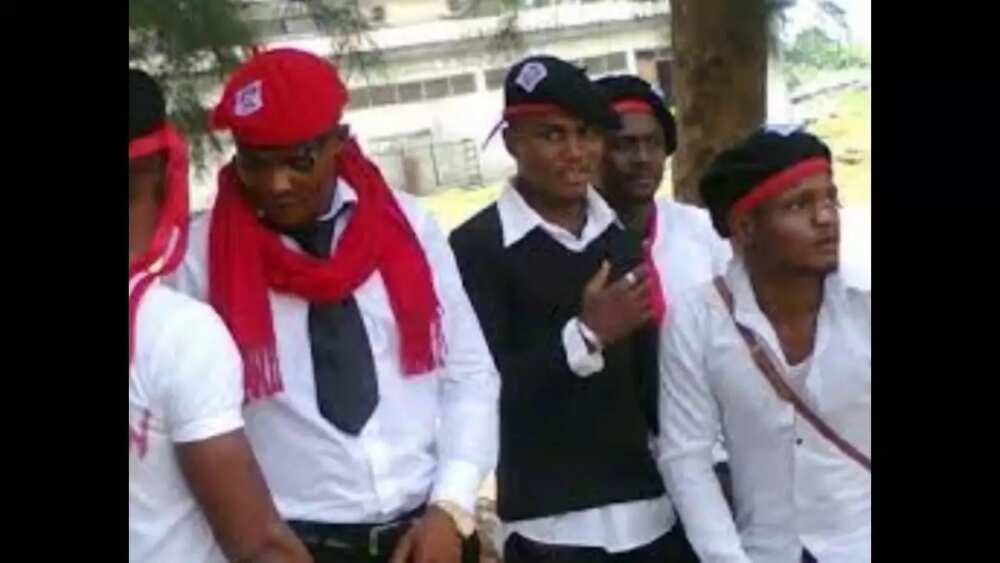 Eiye cultist group was formed by another group of students from University Ibadan, Goke Adeniji, Dele Nwakpele, Bayo Adenubi, Bode Fadase, Tunde Aluko, Kayode Oke, and Bode Sowunmi among others. Its original name was Eiye group but was later changed to Supreme Eiye Confraternity, (SEC). It took its cue from Pyrates with the aim of creating a positive impact on the social-political mind, social-cultural, physical and mental development of its members.
They are known for the following beliefs and saying;
Secrecy
Autocracy
Discipline
Brotherhood
No Friend No Foe
Members are called fliers, Air force, Air Lords.
In 1972, a member of the Pyrates Confraternity, Bolaji Crew (Code-named "Late Ahoy Rica Ricardo") was expelled for not meeting up to the standard, in vexation, he went ahead to create his own cultist group, registered as Buccaneers Association of Nigeria (BAN), but popularly called 'Alora-Sea Lords'.
Their beliefs and slangs;
No prize No pay
No brothers in the wood
No laughing on board
Blood for blood
Let the devil that leads you, guides you
Members are called Fine boys, Ban Boys, Alora, Bucketmen, Lords, etc.
Still, in the spike of dispersing, Supreme Vikings Confraternity (SVC) sprang forth in 1982 who were members of Buccaneers Association of Nigeria (BAN) at the University of Portharcourt. These are their code names;
Rising angel
Eric De Red
Troppence
It was also called victory COSSA presently the Alpha Marine patrols.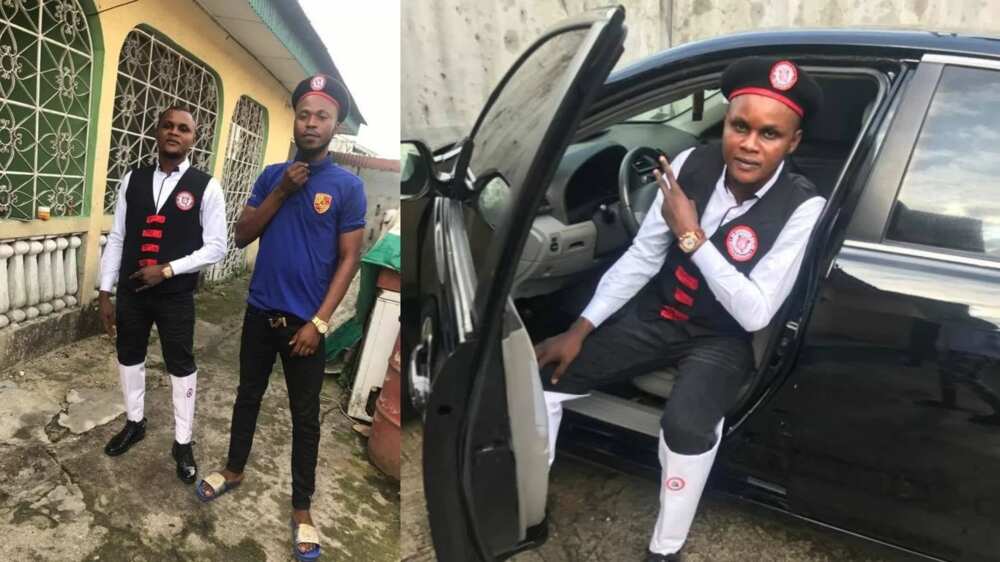 Belief and sayings;
Blood on the high sea
Singing songs of Hojas
Never to hang a leg
Even in the face of death.
Members are referred to as Aro-mates, Adventurers, Vultures, e.t.c.
Then came the 'Aye Axe Men Confraternity' which sprung up in 1976 at the University of Benin, Benin city with the aim of building a body to fight against the oppression of black men students in the University.
Those who came up with this cultist group were rumoured to be runaways from Soth Africans, who were young men that fought the apartheid war and escape into Nigeria for safety.
They have the following beliefs and slogans;
The Black man will be freed with an axe
No phyuk ups
Forgiveness is a sin
Don't betray your brother in the hood
Obey before complain or Abeyance
He who price must pay
Members are referred to as Aye Axe-men, Seven (7) or Amigos.
With more uprising of several cult groups, the Mafia Confraternity aka The Family Fraternity- COSANOSYRA, was formed in the University of Ilorin, Kwara state but began operation in Obafemi Awolowo University, Ile-Ife in 1980.
Starting with eight cool guys who took their mode of operation from notorious Chicago and Italian Mafia/Mob star.
The eight beginners were called ONO-BRIGADERS 1st Brigader with the first don as Don KOOLAT.
Here's their beliefs and sayings;
It is better for a bastard (non-initiate) to chance/provoke a member than for a numbered bastard (members of other cult groups)
Retaliation after oppression
Secrecy is where our power lies
They believe in gambling, partying, dating girls, etc.
Members are referred to as Maf or Mafians.

Then we had the Eternal Fraternal Order Of Legion Consortium, this cult was started by five students at the University of Calabar, Cross Rivers during the military era in 1983. Its idea was gotten from a cult in California and also bears another name as ETERNAL FRATERNAL ORDER OF LEGION CONSORTIUM or KLANSMEN KONFRATERNITY (KK).
Its member worship a demon called "Ogor" as their called, symbolised by a human skull mostly that of a mad or insane man.
Here's their belief and slangs;
The affairs of a klansman before any other thing in life
What concerns a klansman concern all klansmen
Status of other cult members are not considered or relevant
Oath of secrecy abide to all members
Peaceful man in a deadly mood, disagree to agree
Members are referred to as Klansman or Klansmen.
Others include; Thu-Thu, Red Sea, Mgbamgba Brothers, Black Cat, The Fame, Snow Men, Fraternity of Friends, Black Cobra of Ife, Canary, Green Berrets, The Blood Spot, Scorpion, etc.
The ladies too are not left out, their cultist groups include;
Black-bra, Black Berets, Woman Brassier (brave), Daughters of Jezebel, Pink Lady, Amazons, White Angels, Lady of Rose, Sisterhood of Darkness, Golden Daughters, The Ten wonderful Girls, White Ladies, The Royal Queens, Daughters of the Knight, The Knights of the Aristos, etc.
Irrespective of the secret cult group you belong remember the purpose of the cult group was not for violence, but to air the voice of the voiceless and fight for a better society.
Leave your comments below…