Eight men have been arrested in connection with Boko Haram's abduction of more than 200 schoolgirls from the remote town of Chibok in northeast Nigeria, police said on Wednesday.
The eight were among 22 suspected members of the Islamist militant group detained in the remote region after an investigation over the last year. The 14 others were alleged to have been involved in logistics and planning suicide bomb attacks. All the suspects were paraded at a news conference in the Borno state capital, Maiduguri
Borno state police commissioner Damian Chukwu said the men — aged 20 to 48 and all from the Bama area of Borno state — were arrested in Borno and neighbouring Yobe earlier this month. All eight had confessed to their involvement, he added.
"The suspects are helping… with useful information to arrest other fleeing Boko Haram commanders," he said in a statement. The mass abduction of 276 students from the Government Girls Secondary School in Chibok on April 14, 2014, caused widespread outrage and sparked a global campaign for their release.
A total of 57 students escaped in the immediate aftermath of the kidnapping. Since then, 107 have either been found or released as part of a government deal with the jihadists. Two men have already been sentenced to 20 years and 30 years in jail for their part in the abduction.
Both were convicted at closed-door trials held in civilian courts at a Nigerian military facility. Nigerian police have arrested eight members of the Islamist terrorist group Boko Haram over the 2014 abduction of more than 200 schoolgirls from the town of Chibok.
The men "confessed to having participated actively in the kidnapping of the Chibok schoolgirls," police commissioner Damian Chukwu told journalists in the northern town of Maiduguri, once a Boko Haram stronghold.
The eight men were among a group of 22 insurgents arrested within the past two weeks, according to Chukwu. One of the men, aged 23, "confessed to being one of the Boko Haram commanders who coordinated and led the kidnapping" of the Chibok girls, Chukwu added.
The kidnapping of the Chibok girls captured the world's attention, with celebrities and prominent personalities such as former US first lady Michelle Obama joining a "Bring Back Our Girls" campaign to free them.
Boko Haram has kidnapped thousands of other women and children over the past few years, forcing them into sexual slavery or into marriages with its fighters. The extremists, who have been active since 2009, want to enforce a strict interpretation of Islamic law, or sharia, in Nigeria, as well as in bordering regions of Cameroon, Chad and Niger.
Tens of thousands of people have died at the hands of Boko Haram in the region and an estimated 2.5 million people fled their homes. Eight suspected members of Islamist militant group Boko Haram have confessed to involvement in the 2014 abduction of some 270 girls from the town of Chibok, the Nigeria Police Force said on Wednesday.
The mass abduction of girls from their school caused global outrage and drew attention to the militant group which has killed more than 30,000 people since 2009 in an insurgency aimed at creating an Islamic state in northeast Nigeria.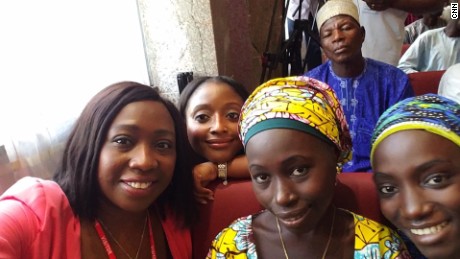 Abba Kyari, a deputy commissioner of police, said 22 suspected members of the militant group were arrested in different locations in the neighbouring northeastern states of Yobe and Borno. Suspected members of Islamist militant group Boko Haram are pictured after being arrested in Maiduguri, Nigeria July 18, 2018.  "Eight of them, including a commander, have confessed to being involved in the planning and kidnap of Chibok girls," Kyari said.
"It was an intelligence-led operation. We have been monitoring them for about six months to one year," said Kyari, who led the team. Nigerian authorities have convicted this year two alleged Boko Haram members to 15 and 20 years in prison for their purported role in the kidnapping of the Chibok girls.
The convictions are part of mass trials of more than 1,600 suspected members of the insurgency. Rights groups had criticized the court hearings for their secretive nature, with initial trials held behind closed doors. With presidential elections due in February, President Muhammadu Buhari's administration is under pressure to show success in the fight against Boko Haram, a group he had vowed to defeat when campaigning for 2015 elections.
The government and military have repeatedly said since late 2015 that the insurgency has been defeated. Despite that, authorities do not control all of the territories in Nigeria's northeast, particularly around Lake Chad, and the militants frequently stage deadly, sophisticated attacks on the army and civilians. Nigerian police are frequently accused of prisoner abuse and malpractice, claims they deny.
Many of the Chibok girls managed to escape in the hours following their abduction or were released in the last few years, including 82 who were released in an exchange deal that included several imprisoned senior members of Boko Haram. But around 100 are still missing and their condition is unknown.