Ace Nigerian comedian, Basketmouth has promised Big Brother Naija housemate, Mercy a birthday shout out during his show as she clocks 26 on Sunday, September 29 and a lot of reactions have trailed the news.
After the housemates had finished their final Wager task, the judges who were the guests invited took to praising them one by one for their performance. They took particular note of Mercy's role in the overall act and Basketmouth, who seemed impressed, did too.
Golden buzzer straight up for Lambo.#BBNaija #BBComedyNight https://t.co/q5YlgqtieG pic.twitter.com/CfkF359iVL

— Big Brother Naija (@BBNaija) September 26, 2019
He mentioned that his comedy show, Lord of the Ribs was on the 28th and 29th of September and promised the next person getting evicted a free ticket. Mercy, reacting to it, told him that her birthday was on day two of the show to which he promised her a gift in form of a shout out.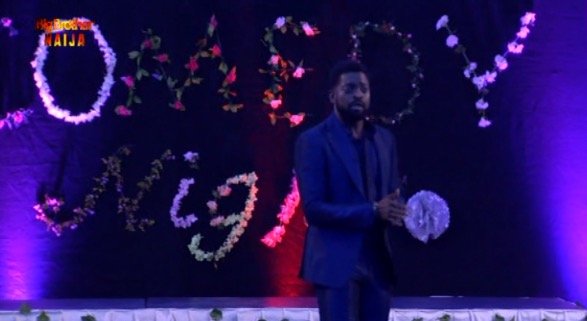 Although most of the reactions fans had on the news were positive, some were still negative as they claimed he showed bias towards the others. Here are some comments gathered:
My Lamborghini Mercy getting a shout out from @basketmouth on her birthday 29th……Watch out for the Diva#29thSept #bbnaija pic.twitter.com/Z3fgHHF1Rl

— sms VOTE Mercy to 32052 (@solomonminee) September 26, 2019
#BBNaija BasketMouth openly confesses that he would be depressed if Tacha wins; he leads his crew to the house and they openly affirm it by just praising Mercy for Nothing in particular

And y'all are trolling Tacha 4 not getting praised by someone that doesn't want her to win? pic.twitter.com/sQCD5CAr2n

— Biggie's Ninja 👺 (@biggieninja) September 26, 2019
Basketmouth- My show is on the 28th and 29th of September

Mercy- That's my Birthday , 29th

Basketmouth- wow, I will give you a shoutout at my show , that will be my birthday gift to you

Me – Yaaaaazzzzz , thank you BasketMouth 🔥🔥🔥🔥🔥

#BBNaija pic.twitter.com/JLeiTXImiX

— IG@houseofamearypearl (@amearyPearl) September 26, 2019
#bbnaija what Basketmouth and His 'boys' did last night was a show of shame. You are supposed to hype the housemates . We agree you have your fav but as a professional drop your bias/hatred at the gate and be fair. Mercy na basketmouth come campaign 4'and to sell his market.

— T 4 Tawa FCA Simply Grace (@jatori56) September 27, 2019
BasketMouth said he would give Mercy a shout out on stage September29th. #BBNaija pic.twitter.com/hJpbbRDn3J

— moonpolaris (@moonpolaris95) September 26, 2019
#BBNaija it's so obvious that basketmouth is rooting for mercy

— Jeffrey jay (@3654123) September 26, 2019
Basketmouth is going to give Mercy a shout out at his show on Sunday as her Birthday Gift. Thank u

Another said Mercy is amazing

Another said the world awaits her awesomeness

Another & Chigurl said she's a super duper dancer.

Everything we know…Lambo is Blownnn #BBNaija pic.twitter.com/A9lUexgAq5

— Uncle Ray (@Raynergy) September 26, 2019
Mercy Is Too Humble Mehn
She's Not Even sure of the shootout
She Feels he'll Forget
Baby Girl Doesn't Know How Important She is
BasketMouth I'm buying tickets just to come hear you shootout to My Girl#bbnaija pic.twitter.com/i5DOZcFSG6

— Bosschic (@NanaDaBosschick) September 26, 2019
I am not surprised wat you did this night but my own is that everyone must not like Tacha,same way I love only AY and does not like u or ur comedy because it irritates me is same way you love mercy and hate Tacha,u already said it before entering house u don't lik her@Basketmouth

— QueenBibian (@Bibian45476701) September 26, 2019