The Big Brother Naija housemates have all been adequately punished by Biggie for losing the Veto Power box he put in their care during Tuface Idibia's visit.
Returning from the Head of House Challenge that saw Seyi emerge winner, they came face to face with a messed up house with dozens of tissue paper tossed all around. The collective punishment due to them for losing sight of the red box was brought and it wasn't funny at all.
Head of House, Seyi read the scroll and the punishment was all Housemates must neatly roll back the tissue scattered around the House by a mysterious Ninja onto the cardboard tubes. According to Biggie, the idea was to try as much as possible to return the toilet paper to their original state. At this point, we wish them good luck in this venture.
There was a warning attached to this. They were not allowed to throw away any tissue and they were not to roll back the tissue carelessly or roughly. Immediately the scroll was read, the HoH suggested they roll the tissue sector by sector. He was not the only one to suggest an idea as Frodd said he knew of a trick to lighten the burden of the punishment.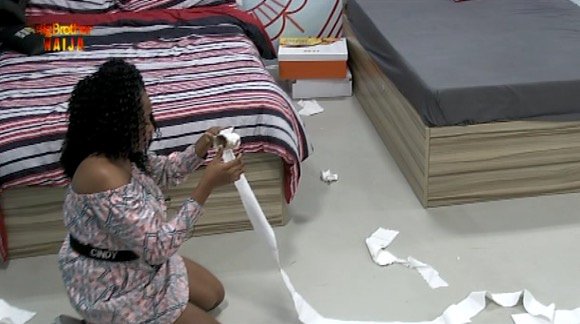 Breaking into a happy song, the Housemates vowed to have fun with their punishment but the song didn't go on for long as they reserved their energy for the Task. So much for the happy week. While they were at it, Omashola wondered why anytime Seyi was HoH, they usually start with a punishment.