Legendary singer, Tuface Idibia celebrated his birthday in grand style with the Big Brother Naija housemates and fans on social media are having a field day because of it.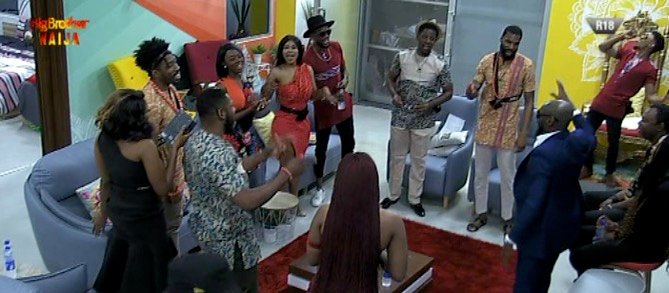 It all started with a tour of the house and introduction by the housemates.
The Queen giving @official2baba a tour of the house 😍 I Stan gidigbam 🔱

But wait….. That gown is fine sha 😩 I want😭#Bbnaija #NoLeaveNoTransfer #iFlowWithTacha pic.twitter.com/ShhyrCw7Wa

— 🗣TACHA'S HYPER🔱🇳🇬 (@Lilyyciouss) September 19, 2019
Then, there was a mini session where the housemates had an opportunity to ask several pertinent questions.
Tacha impressed 2baba😅#BBNaija pic.twitter.com/FLWugbqvwk

— E L O N E L #BBNaija (@iam_elonel) September 19, 2019
When they were done, they got another surprise. The garden was transformed into a party ground with a live band, Alternate Sounds, so much food and drinks.
Tubaba is a legend. His music for all ages. King! #BBNaija pic.twitter.com/SoRuQb98vu

— evelynofficialblog (@evelynofficialb) September 19, 2019
I'm glad I choose you Tacha 🥰🥰🥰😎😎😝😝😝😍😍🤗. I love you die chai Tacha Dey burst my brain #BBNaija pic.twitter.com/oFlk17cSD7

— Cam (@champman45) September 19, 2019
Tuface was all smiles when he saw the beautiful birthday cake he had been made.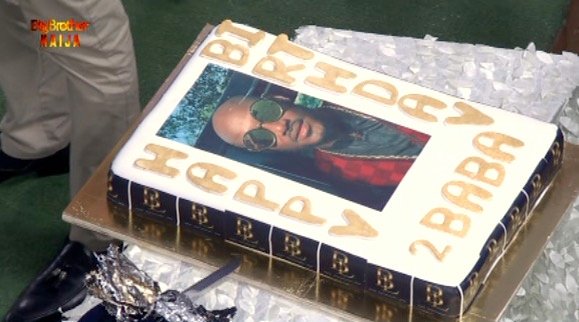 Even housemates thrilled him as they took turns to sing some of his songs.
Which of the #BBNaija Housemates should @official2baba sign now? 😆https://t.co/8UX5oVRABN pic.twitter.com/ahnzKuTI2M

— Big Brother Naija (@BBNaija) September 19, 2019
They also danced to the amazing music from the band.
Seyi will not kill me this night, man is giving me joy #BBNaija #BBNaija2019 @officialseyiawo pic.twitter.com/gtgXuCTcOU

— yummywifey (@Mummjay1) September 19, 2019
Giddem!!!! Baby boy, this level of cuteness is not fair to be Frank. Elozonam 🔥🔥🔥🔥 #BBNaija pic.twitter.com/JrX2pLA5ZW

— amara obioha (@AmaraObioha) September 19, 2019
Fans loved the way the visit had turned into a celebration for the legend who has spent 20 years in the music industry and snet in their felicitations. Here are some comments gathered:
HAPPY BIRTHDAY 2BABA..🎂🍷🍟MANY MORE YEARS OF AMAZING SUCCESS. YOU'RE A LIVING LEGEND AND YOU INSPIRE ME EVERYDAY…… 😘😘
I STAN AND RE-STAN …. Just one wish… To meet you in person 🙌 @offical2baba pic.twitter.com/fZFiv58ual

— MrSteve (@i_ammrsteve) September 19, 2019
2baba is Africa number 1 and he deserves every celebration today that happened to be his birthday #BBNaija pic.twitter.com/gl4hlJSjds

— Uncle Ashafe 🇳🇬 (@Usmanashafe) September 19, 2019
@official2baba happy birthday and hugs. So so happy you came to Big Brother's house. It was a super fun night. #BBNaija

— vuvu mlungu (@MlunguVuvu) September 19, 2019
Lol. And the energy! 2baba won't have wished for a better birthday party

— Vince (@daVincieee) September 19, 2019
This band😍 OMG!!! I feel like I'm in biggie's house with the housemates right now. Dope band🙌. Happy birthday Legend 2baba #bbnaija

— Joyceta (@DrJoyceta) September 19, 2019
Me leaving my home and then hearing that 2baba is in the #BBNaija house https://t.co/tccznoTwKX

— Adedoyin Samuel (@Ade_doyinh) September 19, 2019