The Pepper Dem gang have had a proven record of spicing up their Saturday Night Parties. To ease off the Eviction jitters, Biggie treated the Housemates to a groovy night on Saturday with DJ Lambo and it was lit.
💃💃💃💃💃💃 DJ Lambo on the wheels tonight 💃💃💃💃 whoop!! Whoop!! #BBNaija2019 #BBNaija pic.twitter.com/1j0lESz1Br

— #BBNAIJA Anambra Goddess💎 (LAURA) (@ThisIsTyni) July 20, 2019
DJ Lambo is one of Nigeria's finest DJs  and the President of the Choc Boi Nation record label partied with the Housemates and proved her unquestionable hard work – as one of the few female DJs domineering the music industry. She had her signature look and unique style featuring on the dancefloor as the first female DJ to party with the Pepper Dem gang this season.
Dj Lambo in the buildinggggg!

The party just started, tune in!#bbnaija #betnaijabbn #bet9ja #bbnajia pic.twitter.com/5otXM3J6ua

— Big Brother Nigeria 2019 (@bigbronaija2) July 20, 2019
Saturday Night Party was lit and DJ Lambo brought her A-game in store for the Pepper Dem gang. Here are some tweets that attested to her prowess on the wheels of steel: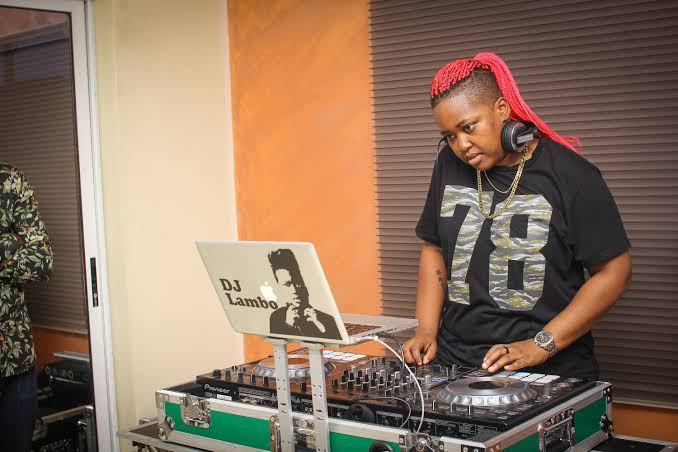 "DJ Lambo over DJ Xclusive.. Yes, Papi says So! For the first time I'm glued to channel 29 on my GOTV cause of her abi him sef."
If you know you're in love with DJ Lambo let me see your hands. #BBNaija pic.twitter.com/iQFefPXoAv

— The Prosecutor ⚖️ (@iam_PreciousEsq) July 20, 2019
"DJ Lambo is progressing where DJ XCLUSIVE failed!! Local man is impressed."
How many likes for DJ Lambo #BBNaija pic.twitter.com/xo6f5zW6kY

— Manuels (@vickmanuels) July 20, 2019
""DJ Big N really set the bar so fucking high!" At this point, any other DJ that shows up to Saturday party would just seem regular. Now withstanding DJ Lambo is far better than Exclusive.. And DJ Big N greater than both of them combined. Shikena."
DJ Cuppy the next time she meet DJ Lambo #BBNaija pic.twitter.com/nBa9d4nJsG

— #BBNaija #BBNaija2019 (@akaraislife) July 20, 2019
"DJ Lambo is the best DJ hands down this season. Best DJ ever!!! BBNaija No need to look for a new DJ. She's all you need."
How DJ Lambo 's going to leave Big Brother's House tonight after turning it upside down with them mad jams. #BBNaija pic.twitter.com/DBFT16fa0h

— Ediye (@iamOkon) July 20, 2019