The drama continues to unfold in the season four of the Big Brother Naija (BBNaija) reality show as the housemates try to give  fans a taste of the hot gossip and peppery gist they clamour for. Currently the hot topic on social media is how BBNaija housemate, Jackye has become obsessed with fellow housemate, Tacha. It appears in the 2019 show, calling people names is a part of the curriculum and it is indeed, very interesting.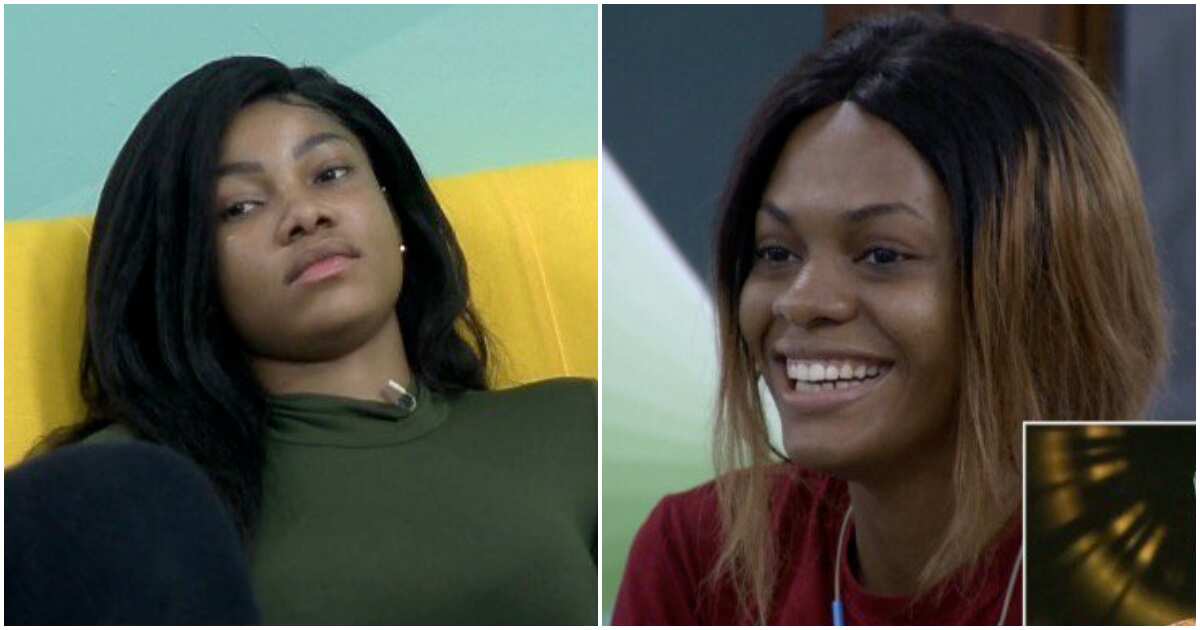 On Sunday, July 14, Jackye had speculated that Tacha was a 'witch'. Speaking to the official host of BBNaija, Ebuka Obi-Uchendu during the live eviction show that saw Ella and Kimoprah going home, she said Tacha may be using Jazz in the house and according to her, the bracelet she wears on her angle had some symbols that represents such.
Jackye you too talk, how can you speculate Tacha is a witch? C'mon!!! That's deep #BBNaija pic.twitter.com/EGqLhCIgvn

— Shugar_Ige (@Dverychick) July 14, 2019
Reacting, the accused housemate, Tacha, had denied bringing voodoo into the house, adding that the bracelet is simply used for beautification purposes and she also sells it on her social media page.
Now, a day after that controversial statement that had sent social media users in a frenzy and saw Jackye being bashed, it seems she is yet to learn her lesson. During the diary session on Day 15, when asked by Biggie why she had nominated Tacha for eviction, she tried wiggling her way out of calling her a witch, compounding the issue when she told Biggie, "I perceive Tacha to be like…a time bomb."
"I perceive Tacha to be like…a time bomb." – Jackye.#BBNaija https://t.co/oTBeZJVQGM pic.twitter.com/4w0cYG0TOL

— Big Brother Naija (@BBNaija) July 15, 2019
Social media users didn't take it lightly with her as they pounced on her. They
"JACKYE TOLD IKE TO STAY AWAY FROM MERCY YESTERDAY WHILE MERCY WAS MAKING HER HAIR AND JACKYE WENT TO SIT BESIDE IKE AND WAS POISONING HIS MIND AGAINST MERCY. SNITCH JACKYE."
"This jackye weak me. Is it your smoke that Ike was smoking? And why do you have to lie? If it was khafi who called out Tacha, Ebuka would have asked her the question and not you."
"So you are just threaten to the extend that you said she was a witch and she didn't even nominate you but you still did. Women don't go far because they are being dragged down by women. But Tacha all the way @Symply_Tacha my love for you has no part two."
"If Tacha is quiet.. They'll say she's boring and not real… When she's loud.. She's rude and arrogant.. Make up your minds na… Anyhow.. Jackye gossip dey go.. Your cup go soon full…"
"Can somebody tell this Jackie girl to shut up already!!!!! Fighting a lost battle. Tacha for the win!!!!"
"If only viewers could nominate….dis Mary amaka for don dey glued to her TV screen with the bitterness called holiness in her heart….omoburuku."