The Big Brother Naija housemate, who is an Instagram slay queen before she came to the house has been pictured spelling the simple word 'daughter' wrongly.
The Ignatius Ajuru University of Education graduate has been seen as someone with so much pride, while she is loved by others. Simply Tacha who is an Instagram sensation and social media influencer has been one of the trending housemates on social media ever since the show started.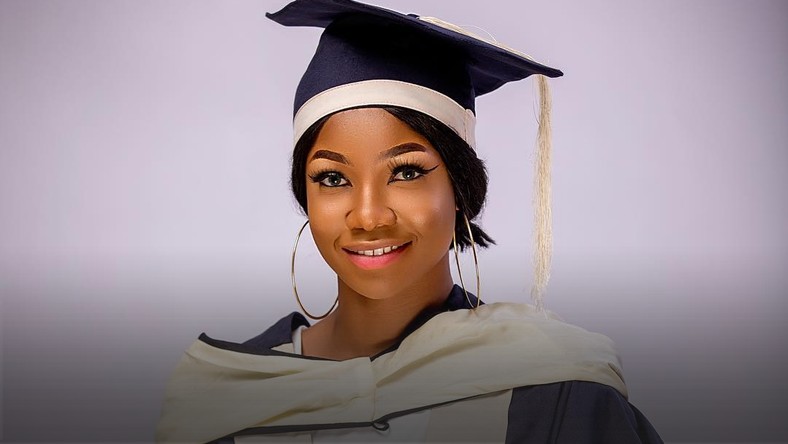 The 23-year-old native of Cross River, who loves to call herself Port Harcourt first daughter, came into prominence after getting a tattoo of Davido's OBO crest on her cleavage. The move got attention from the singer with an Instagram follow. She has since maintained the relationship with the singer's crew. Already, Naira Marley, Bobrisky, Moesha Buduong and Wofai Fada, Twyse and Davido's brother, Adewale Adeleke are some of the popular stars already rooting for Tacha.
Recall that Tacha, who seems to be steadily dishing up 'pepper' became a hit topic for gossip earlier this week when big Brother gave the housemates a task to prepare for their weekly drama and the housemates had to discuss the ideas together. While it was Tacha's turn to pitch her idea, she was rudely interrupted and she didn't take it lightly.
She immediately stormed off and removed herself from the entire scene. Later on in the evening, Seyi tried to settle the entire rift and while addressing the housemates, she categorically stated: "I know on the 99th day I'm going to be there on stage" Check out the video below:
"I know on the 99th day i'm going to be there on stage"- TACHA BOAST #BBNaija #PepperDemGang #Pepperdem #Bet9jaBBN pic.twitter.com/d9rmmysm41

— Angel Iphie Obi (@Angelliqueen) July 10, 2019
For the third time #tacha has said she will be in the house till the 99th day… So what's giving #tacha this confidence? If she indeed gets there viewers of #BBNaija Will smell something fishy hence loose faith in the show. Period!! #bbnaija #TotalAFCON2019 #tacha #teammike

— uchey_ (@uchey_angular) July 10, 2019
Do you think this is just a tactic by Tacha to be relevant or she really has no idea on how to spell 'daughter'? Tell us what you think in the comment section.