The Big Brother Naija 2019 has kicked off in high spirits and quite amusingly, the events that would keep viewers on the edge of their seats are swiftly kicking in even in the very early stages of the game. On the evening of Day 2, two of the guys decided to turn on the waterworks and Nigerians couldn't get over it.
The day was a sort of a day to get the house mates to know one another and have an understanding of what everyone's personality entails. However, it got more interesting as they took turns to describe their experience at the auditions which was held a couple of months ago. But what happened afterwards was not expected!
28-year-old Chiemeka Okoye aka Frodd couldn't hold back his tears after narrating all he had to go through before getting into the BBNaija 2019 house. He narrated how he was placed on performance improvement plans by the company he was working for after failing to meet his monthly sales target since late 2018.
He further explained how his boss told him that he will be laid off if he fails to meet his target for the month of March 2019. He said he was worried but his mum believed in his abilities and after missing the first day of audition in Lagos, he decided to audition on the second day.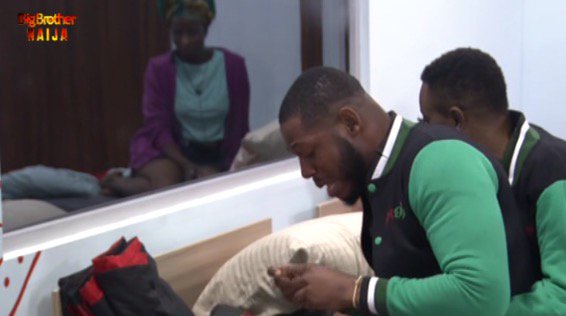 Frodd also gave insights how his best friend urged him and even supported him to go for the audition with the small token he had on him. He gave a vivid explanation of all he went through to get into the auditioning hall. He said he had lost hope after auditioning but was surprised when he was chosen and the rest as he said was history.
God punish Frodd ? ? ? oga u dey mad see fresh guy wey d talk nonsense. Baba say na eba Em bin d take everyday till he came to bbn house. Omo the acting burst brain o ? ? ajebuta ? ? I no go shock say na only TV em d see eba. #BBNaijaUpdates pic.twitter.com/1XVGmaHiKG

— Dee Isreal (@Dee_I_) July 3, 2019
He had barely concluded his story when his emotions gave way and he began crying. He left the room close to the garden and moved to the second room close to the bathroom to let out all his emotions. He was joined by Mike, Nelson, Tacha and Ella who came to console him. Watch video below:
Mike consoling Frodd ?
Mike is a G ?#BBNajia2019 #TeamMike #BBNaija @aireyys pic.twitter.com/hFQpedfrA0

— #TEAMMIKE BIG BROTHER NAIJA ?FAN PAGE (@teammikeaireyys) July 2, 2019
Not long after he had calmed down from crying so hard, another housemate decided to join in the waterworks challenge. Omashola turned on his tear ducts as he also shared tears while sharing some personal stuff.
It's a cry fest on #BBNaija tonight as Omashola also turns on the waterworks. https://t.co/XxIxwAi7TN pic.twitter.com/Fxkwcovyk2

— Big Brother Naija (@BBNaija) July 2, 2019
It was indeed an emotional night!