Did you ever stop and think about how often we are told to change our appearance? Well, some popular ex-BBNaija housemates have mostly been targets for those who take joy in body shaming others.
A celebrity is seen as someone who should be classified as a role model and as such should, most times look like the total package. Not being able to look like what fans and admirers want has resulted in a lot of these celebrities being body shamed and sometimes publicly humiliated. The not-so-strong celebrities have in some cases broken down because of the unpleasant words these body-shamers use.
Social media and even other celebrities often tell us that that we should care about looking slimmer, smaller, and tanner.  And if we don't, we worry that we are at risk of being the target of someone else's body-shaming comments. No matter how this manifests, it often leads to comparison and shame, and perpetuates the idea that people should be judged mainly for their physical features. Now, let us look at 7 of BBNaija's finest ex-housemates that have been body-shamed in the past.
1. Bisola Aiyeola
'See Gobe' housemate of Big Brother Naija Bisola Aiyeola might never forget the day her co-former housemate, Kemen body shamed her and openly called her 'Teethiana', insulting her in the presence of other housemates using her slightly imperfect teeth as the weapon in 2017. A year after, Bisola removed her braces and had a nice set of teeth to show for it. The actress cum comedian did not let Kemen hear the last of it as she reminded him of the incident. In a revenge move, Bisola had told Kemen to go get braces for his big lips just as she got braces for her teeth.
2. Uriel
Uriel is one that has been faced with several backlashes after the Big Brother Naija show came to an end in 2017. Many body shamed her for having saggy chest. Well, now, she is proudly accepting them just the way they are. In May 2018, the beautiful star took to social media to share beautiful photos from a photo shoot which she had with a brand where she had to go bra-less. Knowing her fans and followers well enough, she decided to inform them not to insult her as the photos were only for a shoot. She captioned, "Pls pls I would like to beg you let my saggy b**bs feel s**y pls .. It's a shoot after I will pack them. Pls just let me have this picture I'm shaking as I'm typing this. Pls pls"
3. Tboss
In March 2019, Big Brother Naija ex-housemate, Tboss had posted a portrait drawing of herself on her Instagram page. The portrait was said to have been drawn by a fan and gifted to Tboss. Taking to her page, the actress thanked the artist on a job well done and asked her fans if the artiste did a good job or not? In response to the question, a troll compared the portrait photo with the original image and noticed some discrepancies. The troll wrote, "Awesome job, the artist did justice to those boobs especially by lifting them up a little bit". The reality television show finalist wasn't having such talk on her page as she told the troll to do some mental uplifting and resetting.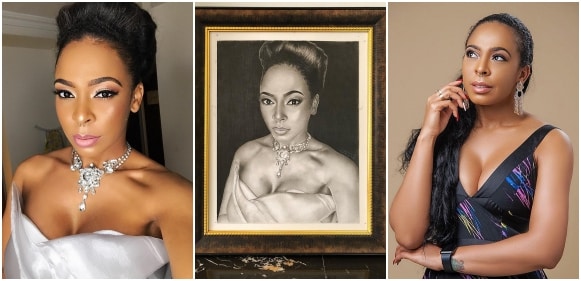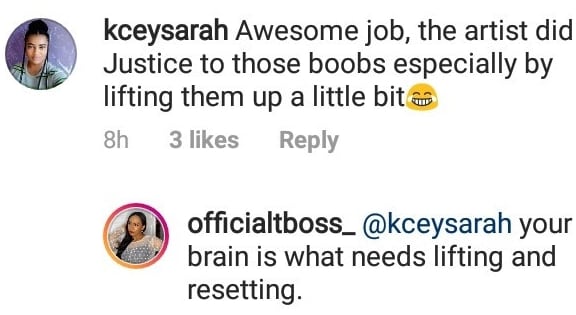 4. Anto Lecky
The former Big Brother Nigeria housemate Antoinette Lecky who has been the victim of cyberbullying due to her body size had some words for her trolls. The actress, popularly known as Anto Lecky used humor and some serious shade to respond to some body-shaming. She stated in her Instagram page, that she was a queen and with all of the body flaws she had, she would only do surgery if she deemed it fit and not because of what someone thought.
5. Ahneeka
In September 2018, the 25-year-old beauty, who must have been thoroughly put off by the trolls who talk about her in nasty ways, took to Instagram to make a rant. In the post she shared on her instastory, Ahneeka threatened to sleep with the fathers of those who troll her and body shame other people. Although she claimed doing just this would make her look better and more admirable, its adverse effect is that it would affect the children of the men she slept with. Ahneeka who is an engineer as well as a media personality made this statement in reference to her overall advice to these trolls. She advised that they should not direct their negative actions at those who have chosen to make money the honest way. Rather, they are advised to support these people or stay far away from them.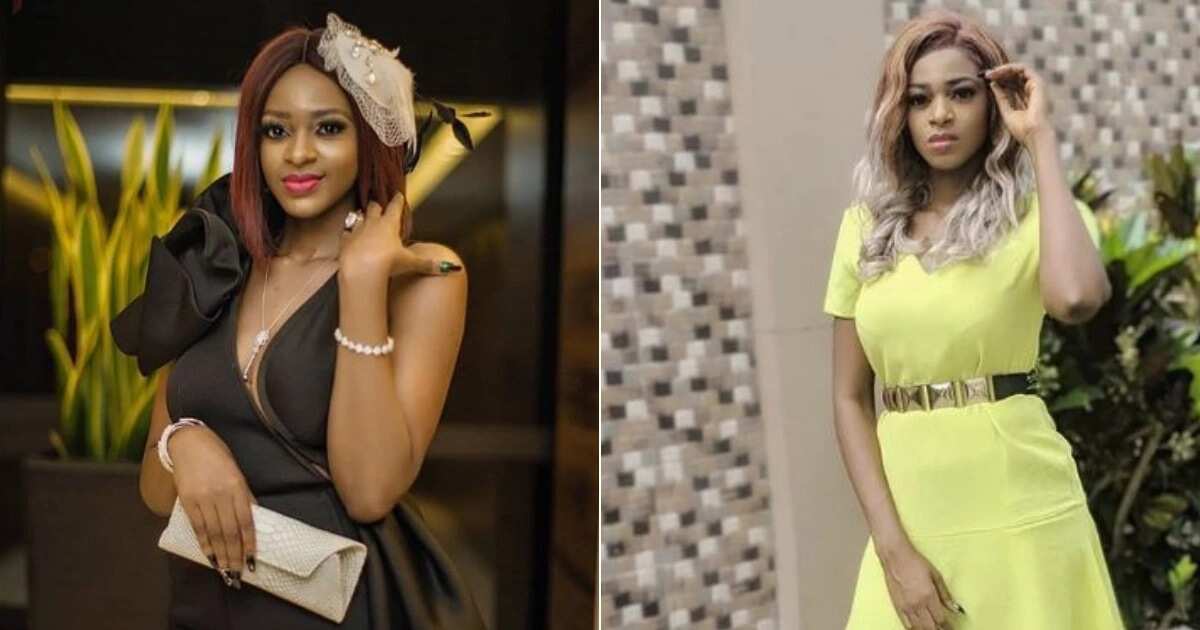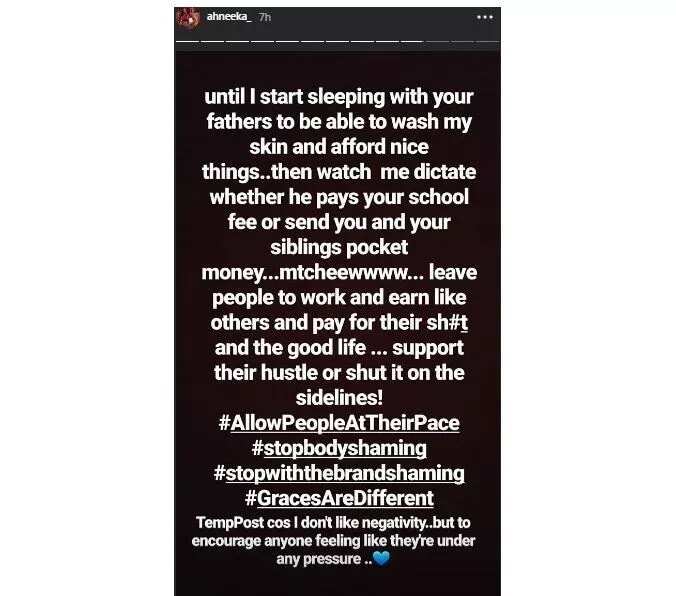 6. Khloe
Ex Big-Brother Naija housemate, Khloe is also a victim of body shaming. Recall that in March 2018, the former Big Brother housemate had put up a picture of her crush (former Big Brother housemate, Bassey) and asked the public if they have met her  real man. But an angry follower who was not having it body shamed her by calling her dry bones. Khloe however was not in the mood for any internet war as she told the follower subtly that dry bones shall rise again.
Body-shaming (criticizing yourself or others because of some aspect of physical appearance) can lead to a vicious cycle of judgment and criticism. Why, when we are upset, annoyed, or intimidated by someone, do we default to criticizing their appearance?  In some ways, it feels easier to shoot for something that will hurt, like targeting physical appearance, rather than expressing what is really going on emotionally. These celebrities might become pressured to go and do some sort of adjustment on their bodies like plastic surgery, which could lead to their death if done wrongly.
While it may seem cliché, stopping body-shaming starts with the realization that bodies come in all shapes and sizes, and that few particular body types are overwhelmingly overrepresented in the media. Knowing what we know about the difficulties celebrities face on social media on a daily basis, why do we continue to be so harsh? Why are we adding to the pressure?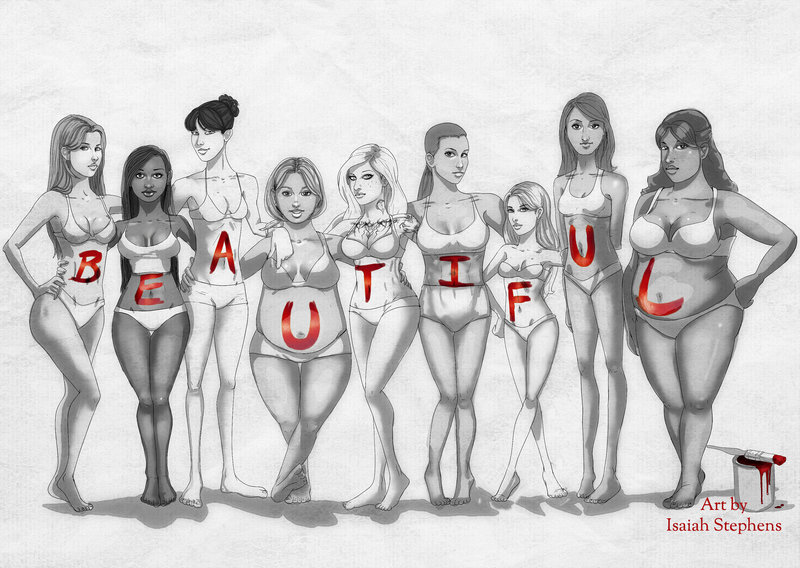 This crazy trend must stop!